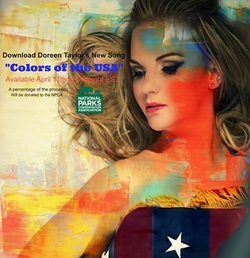 The National Parks Conservation Association's (
www.npca.org
) mission is to protect and enhance America's National Park System for present and future generations. NPCA, established in 1919, is an independent, nonpartisan voice working to address major threats facing the National Park System. Stephen Mather, the first director of the Park Service, was one of their founders and felt strongly that the national parks would need an independent voice—outside the political system—to ensure these places remained unimpaired for future generations. Now, nearly one hundred years later, NPCA has more than 800,000 members and supporters.
Award winning singer songwriter Doreen Taylor wrote a song specifically for the NPCA entitled "Colors of the USA." She premiered the song at the Salute to The Parks Gala in Washington DC on April 9th. Over a year in the making, the song showcases Doreen's vocals and songwriting ability.
"I am a huge supporter of the preservation of America, our history and of our National Parks so I am so excited to be writing and performing such a moving and inspirational tribute to support the work of NPCA as Americans prepare to celebrate the 100th anniversary of our national parks." - Doreen Taylor
"Doreen's incredible voice and her beautiful song have the power to connect people to America's most glorious places, our national parks. We are grateful for her support to help protect our national parks for the future." -
Clark Bunting
, President and CEO of the National Parks Conservation Association.
Visit the official website
here
The song is available for download at
digital retailers
. A portion of the proceeds will be donated to NPCA to help advance their mission to protect the national parks.