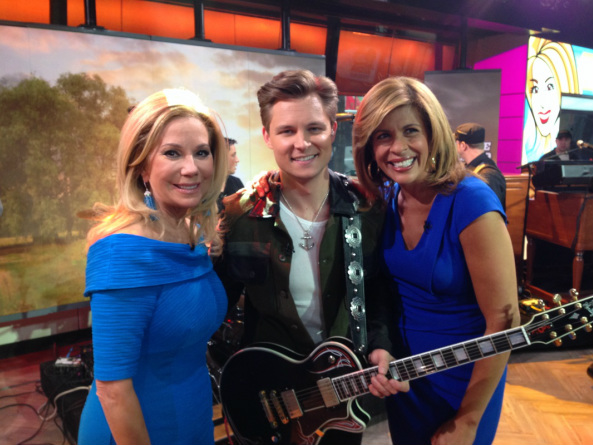 Pictured L-R: Kathi Lee Gifford (co-host of NBC's TODAY Show), Frankie Ballard, Hoda Kotb (co-host of NBC's TODAY Show) Photo Credit: Courtesy of Sweet Talk Publicity
NASHVILLE, TN (April 2, 2014) –
This morning (4/2), guitarist-singer
Frankie Ballard
performed his #1 smash "Helluva Life" on NBC's
TODAY Show
. You can watch the performance via
http://www.today.com/entertainment/frankie-ballard-gives-klg-hoda-helluva-performance-2D79473515
.
The song, which has sold over 435,000 digital copies, marks Ballard's first #1, and is the lead single from his new album,
SUNSHINE & WHISKEY (Warner Bros. Records)
, available everywhere now.
The Michigan native is currently touring all over the country and will join Jake Owen's DAYS OF GOLD Tour for select dates through the summer. His dynamic set has caught the eye of many publications, including
Country Weekly
, who described the singer as
"a true guitar hero,"
and added that Ballard
"exhibits an elegant supple style of playing rarely seen in these days of hard-rock country."
For upcoming tour dates and more information, visit
www.frankieballard.com
.
Ballard's
SUNSHINE & WHISKEY
is now available on
iTunes
.