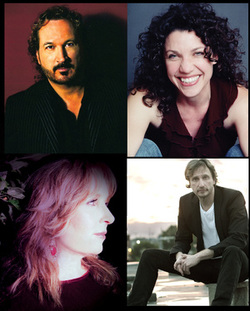 Nashville To New York is an evening of hit songs and the stories behind them. Patterned after the famous "In The Round" writer's nights at the Bluebird Café in Nashville, Nashville To New York is hosted by Hall of Fame songwriter Gary Burr and hit songwriter Georgia Middleman. Every Nashville to New York show features Gary and Georgia, along with two of their amazing friends, telling stories and playing songs. If you love songs and songwriting this is a show for you!
The next show will be June 10th at The Cutting Room in NYC. It will feature Georgia, Gary, Gretchen Peters and Dave Berg. For more information and to purchase tickets, visit
here.
We recently had the opportunity to chat with Georgia Middleman, look for our interview with her soon!
GARY BURR
Nashville Songwriter Hall of Fame member. ASCAP, Billboard and NSAI Country Songwriter of the Year. Fifteen #1 hits. Songs recorded by Faith Hill, Garth Brooks, Carole King, Ringo Starr, Reba McEntire, LeAnn Rimes, Christina Aguilara and Ricky Martin, Kelly Clarkson and many more. Gary is a member of the group Blue Sky Riders with Georgia Middleman and Kenny Loggins.
GEORGIA MIDDLEMAN
Songs recorded by Keith Urban, Kenny Chesney, Faith Hill, Reba McEntire, Joe Nichols, Martina McBride, Sheila E., Radney Foster, Maia Sharp, Mark Chestnutt, Sarah Buxton, Terri Clark and many others. She recently had her song "When The Right One Comes Along" featured on the ABC hit TV show "Nashville." Georgia is one third of the new trio, Blue Sky Riders with Kenny Loggins and Gary Burr.
DAVE BERG
Songs recorded by Keith Urban, Bake Shelton, Carrie Underwood, Kenny Chesney, Jewel, Jimmy Buffett, Reba McEntire, Meatloaf, Trisha Yearwood and many others. Dave's songs have reached the top of the country charts five times including the most played country song of the year in 2008, "If You're Going Through Hell." He was named Billboard's Country Songwriter of the Year, as well as ASCAP Country Songwriter of the Year. Dave has released three independent singer/songwriter records of his own.
GRETCHEN PETERS
Twice Grammy-nominated, CMA Song Of The Year winner for the groundbreaking "Independence Day", Gretchen has had songs recorded by Etta James, Trisha Yearwood, Bonnie Raitt, The Neville Brothers, George Strait, Bryan Adams and Faith Hill among many others. Of her music, the Associated Press said, "this is not jukebox music - the stuff that exists to fill in the pauses in conversation. This IS the conversation." She has released nine critically acclaimed albums along the way.