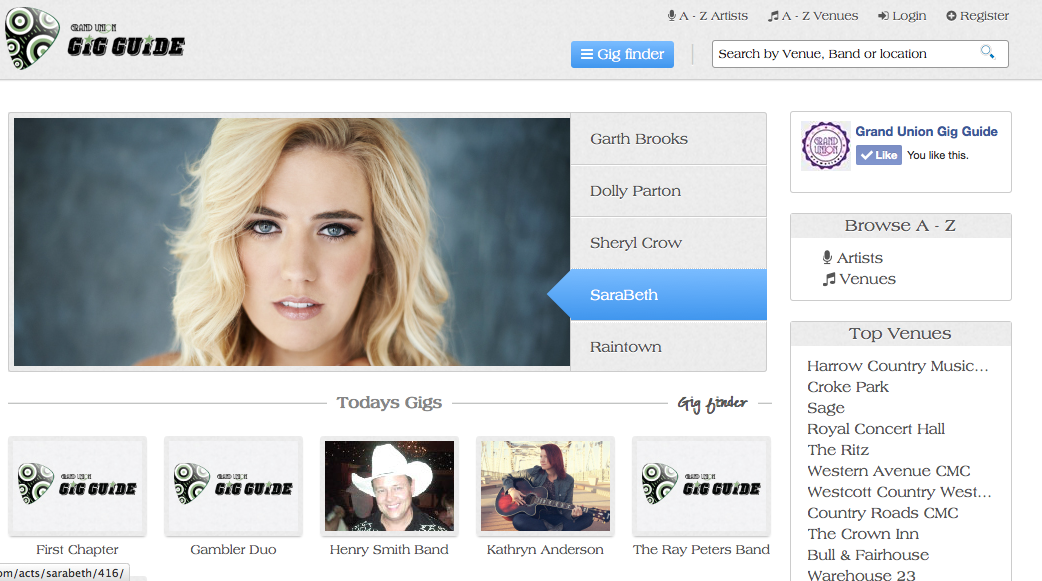 Grand Union Gig Concert is the fastest growing
country concert guide
in the world. Their aim is simple: to provide you with the best place to find country concerts near you, anywhere in the world.


The website was started one year ago by Becky Alldis to help people spread the word about country music in the UK. Over the course of that year, they have successfully accumulated a great customer base and started building what you see today. They now have a team of developers, SEO advisers and marketeers all aiming to provide you with the best experience to keep you coming back time and time again!
Due to their success in the UK market, they have now made their website available to the rest of the world.

 Saving the best 'till last...
venues and artists can sign up free!
A dedicated
admin area
means artists can promote themselves with a profile and post gigs themselves. With exposure like this, fans will never miss a gig again! All artists that post their gigs will feature on the homepage, for increased exposure all day, every day. 

With new features added to the site daily, Grand Union are a site that stays on top of the game:



·
Zip code search
– Find gigs near you just by entering your zip code — it's a great way to find new artists!
·
Map view
– Be in the know about gigs around the world by viewing them in 'list view' or 'map view'.
·
Social submit
- This one's for you artists! When you add a gig, it will automatically be submitted to your Facebook page and Twitter account so your fans are always the first to know!
New features are being added all the time, but if you have an idea you think they'd love, drop them a line and it could be your suggestion drawing more users to the site! 

Check out the site at
www.countrygigguide.com
and be part of the ultimate country concert guide!