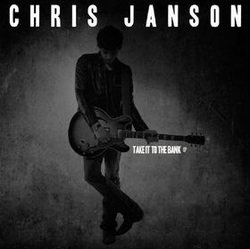 Known for his energetic and contagious performances, country music artist
Chris Janson
will continue to build the buzz surrounding his career with multiple performances and appearances throughout the 2014 CMA Music Festival.
Janson will perform FREE at the Opry Plaza Party presented by Humana® on Tuesday, June 4 beginning at 5pm. On Wednesday, Janson will set his talents at SiriusXM's "Highway Finds Stage" at the Hard Rock Cafe in Nashville. Thursday, fans can get the VIP treatment and a chance to get up close and personal with Janson and the star's of CMT's "Dog And Beth On The Hunt"--Dog the Bounty Hunter, Beth and Leland & Dakota at their Fan Club party at the Silver Dollar Saloon in downtown, Nashville. To end the week, Janson will perform in front of the Bridgestone Arena at the Bud Light Stage at 11:15am.
Known for his latest
Billboard Top 40
Hit Song, "Better I Don't," Chris Janson, the dynamic performer, multi-instrumentalist, singer and songwriter, has been making major waves in the Country music industry. With his recently released new EP,
Take It To The Bank
, on Columbia Records, Janson continues his steady flow of tour dates across the country. Performing over 150 nationwide dates in 2013, including numerous appearances on the Grand Ole Opry and a National Television appearance on
Huckabee
on FOX, he has shared the stage with music greats including Hank Jr, and Lynyrd Skynyrd. Janson has penned songs for Justin Moore, Parmalee, and Tim McGraw among others. Notable songs include "Truck Yeah" for McGraw, and "Off The Beaten Path" for Moore. Most recently,
Billboard Magazine
named him "The New Wave of Country Music" and was named "Artist Worth Your Attention" by
The Boston Globe
.
List of Scheduled Performances:
Tuesday, June 3, 2014
5pm & 8:30pm
Opry Plaza Party
Wednesday, June 4, 2014
3:15pm
Sirius XM Stage, Hard Rock Café,
Thursday, June 5, 2014
11:00am
Fan Club Party—Silver Dollar Saloon
Purchase tickets visit
HER
E or
http://chrisjanson.bigcartel.com/product/fan-club-party-june-5-2014
Friday, June 6, 2014
11:15am
Bud Light Stage at Bridgestone Arena
For more information on Chris Janson visit,
www.chrisjanson.com