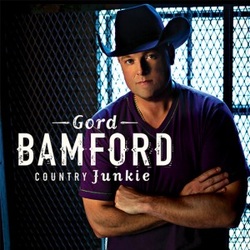 Canadian country superstar
Gord Bamford
is well known as a family man north of the border, in no small part because of well-loved songs including "
Little Guy
" and "
My Daughter's Father
." As he continues his already well-received rollout for U.S. audiences, Bamford is releasing both tracks to radio in advance of June 15th, Father's Day 2014.
Out the week of May 19, the songs shine a spotlight on Bamford's only passion that rivals music - his family. Gord wrote the song, "Little Guy" about four hours after the birth of his son Nash, while his good friend and mentor, Nashville hit songwriter Bryon Hill, penned "My Daughter's Father." Gord included his brood in the video as
"Little Guy"
features Nash and
"My Daugther's Father"
stars his wife Kendra and daughters Paisley and Memphis.
"As a music man, I recall my wife and I discussing the possibility of not having children because of the time I spend out on the road," he admits. "I am so glad that there was a different plan for me! I have been blessed with three beautiful children and being a father is the best part of my life. Each year at this time I find myself coming back to these two songs. I hope there's a father or two out there who claims one of these as their own expression of love to their son or daughter."
Bamford recently made his U.S. festival debut at Country Thunder in Arizona, earning raves for his ability to "put on one hell of a show," according to the Phoenix New Times. In Canada, Gord's latest single "Unreal" is quickly rising in the wake of its gold-certified predecessor "When Your Lips Are So Close." His current album
Country Junkie
, which earned a No. 1 debut on the Canadian Country album sales chart, will get a U.S. release later this year.
On September 8, 2013, Bamford picked up five CCMA trophies in the record seven categories he was nominated in, largely in part to "Leaning On A Lonesome Song" off his 2012 album
Is It Friday Yet?
That album also earned the 2012 CCMA Album of the Year. Those awards followed other accolades from winning the 2010 CCMA Male Artist of the Year and Album of The Year award for
Day Job
, to his song "My Daughter's Father" which claimed the #1 Spun Canadian song in 2011.
For more information visit
www.gordbamford.co
m