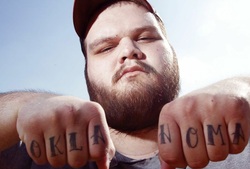 One of Oklahoma's most talked-about songwriters, John Moreland, will be playing at Hill Country Live on Sunday May 11th and Monday May 12th. The first show will be at Hill Country in Brooklyn and the second night will be at Hill Country NYC.
An acclaimed singer-songwriter, Moreland has been releasing records and performing live for almost a decade. He embodies a timeless style with emotionally fraught lyrics that explore love, religion, success and faith.
In an article from April 2014, American Songwriter called him "a grand secret waiting to be uncovered."
Moreland says songwriting, for him, is an act of self-discovery. "I'm just writing stuff where I feel like I've learned something about myself. I guess I just want to understand myself better."
You can read the full article
here
For more information on John Moreland, visit his
official website
His latest album, 2013's
In The Throes
, can be purchased
here
The shows start at 9pm and there is no cover. For more information visit
here
Prolific songwriter
M. Lockwood Porter
will also be performing.