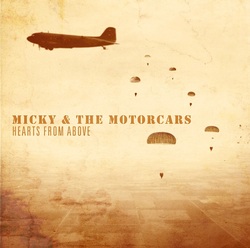 Really looking forward to this one.
Micky & the Motorcars revealed on their Facebook page the artwork for their new album,
Hearts From Above.
After touring around the United States and Germany, the Motorcars decided to head into the studio and record a new album. They successfully funded the project via
Kickstarter
, even exceeding their goal. Micky and Gary wrote and "road-tested" their new songs over the past year and brought on their brother Willy, from
Reckless Kelly
, to produce the album.
Their previous release
Raise My Glass
was released in 2011.
Hearts From Above
is due out sometime this year.
For more information visit their
official website
Find MMC on
Facebook