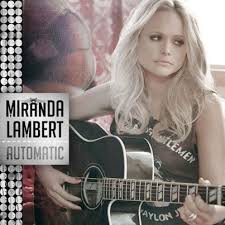 Miranda Lambert will launch her
Platinum
tour on July 10 in Fort Loramie, Ohio. The 30-city
Crystal Light Presents Platinum Tour
will conclude on September 20th in Honolulu.
The new show will glitter with a platinum theme that includes a new signature stage design.
Platinum
will include several songs from the new album including "Automatic," the title track and others. It will also feature songs from all four of her previous platinum certified albums. Also, Miranda has added two new members to her band family including singer songwriter Carolyn Dawn Johnson.
"It's the color of my hair, my wedding ring, my airstream trailer, so it's just a natural fit for the name of my new album and it's why we decided to name the tour Platinum too," Lambert says. Her upcoming fifth studio album
Platinum
, will be released June 3.
Justin Moore and Thomas Rhett will join as opening acts beginning Aug. 8.
7/10/14 Fort Loramie, Ohio
7/11/14 Tuscaloosa, Ala.
7/12/14 Rogers, Ark.
7/17/14 Monticello, Ia.
7/18/14 Cleveland
7/19/14 Cincinnati
7/20/14 Brooklyn, Mich.
7/25/14 Twin Lakes, Wis.
7/26/14 Pittsburgh
8/1/14 Sweet Home, Ore.
8/3/14 Camrose, Alberta
8/8/14 Sacramento, Calif.**
8/9/14 Mountain View, Calif.**
8/10/14 Irvine, Calif.**
8/15/14 Chicago**
8/16/14 Indianapolis**
8/17/14 Bonner Springs, Kan.**
8/21/14 Raleigh, N.C.**
8/22/14 Virginia Beach, Va.**
8/23/14 Washington, D.C.**
8/29/14 Darien Lake, N.Y.**
8/30/14 Hartford, Conn.**
8/31/14 Bethel, N.Y.**
9/4/14 Toronto, ONT**
9/5/14 Philadelphia**
9/6/14 Boston**
9/11/14 Pensacola, Fla.**
9/12/14 Lafayette, La.**
9/13/14 Corpus Christi, Texas**
9/20/14 Honolulu
**Justin Moore and Thomas Rhett will support on these dates.
For more information visit her
official website.