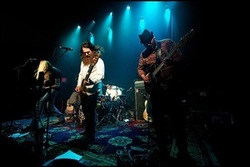 Waylon Speed, a four-piece alt country band hailing from Burlington, VT, will be playing Hill Country Live in Manhattan on May 29th. Formed in 2009, the band is comprised of Noah Crowther, Reverend Chad Hammaker, Kelly Ravin and Justin Crowther. The band has earned a loyal following through their energetic live shows, intelligent songwriting and unique fusion of honky-tonk and punk.
The Washington Post has described their sound as "a cross between Metallica and The Lumineers," with an added "dash of Prince showmanship." True to their genre-bridging persona, they've shared the stage with an eclectic list of acts from Elvis Costello and Jane's Addiction to Little Feat and Grace Potter and the Nocturnals, just to name a few.
The band released their second full length album,
Kin
, on April 29th, 2014.
Showtime is 9pm and there is no cover
About Hill Country Live:
Featuring roots, Americana, and alt-country concerts inspired by the Austin music scene, Hill Country Live offers live music five to seven nights a week in state-of-the-art performance venues in Manhattan, Brooklyn, and Washington DC. Curated by music business veteran Jessie Scott, Hill Country Live has established itself as the regional home for Americana music, hosting performances by legends such as Billy Joe Shaver, Rosanne Cash, Norah Jones, Dale Watson, Asleep at the Wheel, Shooter Jennings, and live music events in partnership with the Americana Music Association, SXSW, WFUV, NASH-FM, WHN and New Orleans' Export NOLA.
For more information on Waylon Speed visit
here
For more information on Hill Country Live visit
here