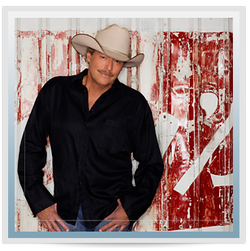 Alan Jackson held a press conference at the Country Music Hall of Fame in Nashville to announce a year-long celebration of his 25th year in the music business. Gerry House, Nashville radio personality and member of the Country DJ Hall of Fame, led the press conference and brought out the man of the hour to a standing ovation and thunderous applause. Jackson's 25th anniversary celebration is a multi-faceted undertaking that will celebrate his countless – and ongoing – contributions to country music.
With new music set to arrive in the coming months, plans for a special 25-city, 25th anniversary tour by Jackson is slated to begin in 2015. There will also be a special 25th anniversary collaboration between Jackson and the Country Music Hall of Fame.
On Friday, August 29, the Country Music Hall of Fame® and Museum will unveil a new exhibit highlighting Alan Jackson's 25-year career. Additionally, he will be the museum's next Artist-in-Residence, delivering a unique series of intimate performances later this year. Jackson is the first artist to be the subject of a museum exhibit while serving as Artist-in-Residence. The new exhibit will give fans a personal look into Jackson's career and personal life, showcasing such things as awards, instruments, clothes and personal mementos. The exhibit will include many never-before-seen treasures that are of special meaning to Jackson, all on display for the public to enjoy.
Alan Jackson's 25-year career has made him one of the most-recognizable faces in music. Since signing his record deal in June 1989, he has sold nearly 60-million albums worldwide and ranks as one of the 10 best-selling country artists of all-time. Those albums have spawned more than 60 charted singles – more than 50 of them went on to become Top 10 hits and 35 of them climbed all the way to #1 (24 of them written or co-written by Jackson, an accomplishment that puts him on par with Paul McCartney, John Lennon and Merle Haggard among the select few artists to write and record that many of their own chart-topping songs). His music has earned him 18 ACM Awards, 16 CMA Awards, a pair of Grammys, induction into the Nashville Songwriters Hall of Fame, ASCAP's Founders Award, and membership in the Grand Ole Opry.
For more information visit
here.