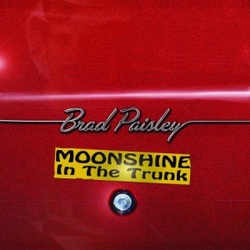 Brad Paisley unveiled the cover for his upcoming album,
Moonshine in the Trunk,
while on Jimmy Kimmel Live! this past Tuesday night, June 17th.
Paisley, who had previously not been a drinker, also told of the bar that he had installed in his recording studio that provided the inspiration for his new songs.
"I was thinking, 'This is probably a mistake.' And, it ended up being fantastic. We have just camped out and cut music, and it's really fun. It's all sort of been in the name of what I was writing and to capture the vibe of this perspective of mine. The first single is a little taste, but there's a lot of other stuff."
Moonshine in the Trunk
will be available August 26th. Brad's current single from the album is "River Bank."
Watch Brad perform "Moonshine in the Trunk" below.
For more information visit
here
.