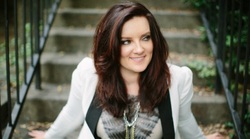 Brandy Clark,
whose 2013 release,
12 Stories,
was critically adored by just about everyone, will be headlining the Highline Ballroom on June 20th.
Prior to
12 Stories
, Brandy had a hand in writing songs that were hits for others, including "Better Dig Two" (The Band Perry) and "Mama's Broken Heart" (Miranda Lambert).
12 Stories
, Brandy's debut album as an artist, is full of diverse characters showcased in humorous, moving and real songs. In "Stripes," a woman fantasizes about killing her cheating husband, but doesn't want to be caught dead in that orange prison jumpsuit. Then there's the bored housewife in "Get High," who escapes life's daily drudgery by doing just that.
Brandy has said, "I get my inspiration from real people who are just surviving their life and getting through their day. That's who I write songs for. I want to write songs for somebody who is working at a bank—if that person could write a song, what they would write. That's my goal."
Americana Country artist
Michaela Anne,
who recently released her album,
Ease My Mind
, will be supporting Brandy at this show. Be sure not to miss her set!
For tickets and more information visit
here