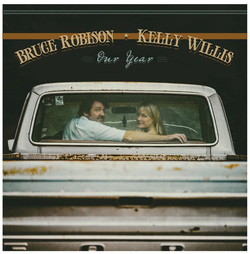 Husband and wife Bruce Robison and Kelly Willis head to Joe's Pub in NYC this Sunday, June 8th, for one show in support of their recently released, and terrific, new album,
Our Year.
Willis has been a critically acclaimed roots singer since her debut two decades ago. Robison has made his mark as both a writer of hits for others, "Wrapped" (George Strait), and "Angry All The Time" (Tim McGraw & Faith Hill), and an artist in his own right who has released eight albums.
"We've been playing together occasionally over the years," explains Willis. "And it's always been really special. So we just thought we'd like to try a real collaboration where we pull from each other's strengths and create a new entity apart from our separate ones."
"It's been something that I've wanted to try for a couple of years," adds Robison. "At some point you decide: let's see what this is like if we don't keep it at arm's length."
Bruce and Kelly will play Joe's Pub in NYC on June 8th. Doors 9/Show 930pm For tickets and information click
here.
For more information visit their official
website.