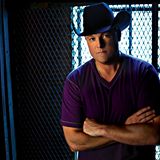 Gord Bamford is a superstar in Canada and a highly pedigreed newcomer in the United States, but he's a father everywhere he goes. The U.S. releases of his dad-ready anthems "Little Guy" and "My Daughter's Father" are helping with his stateside introductions, as will three shows set for next month.
With two shows in Colorado and one in Montana, Bamford aims to continue the south-of-the-border success that began earlier this year in Phoenix. His performance at the Country Thunder festival had the
Phoenix New Times
raving that he "put on one hell of a show."
Released to U.S. country stations earlier this month in advance of Father's Day (June 15), "Little Guy" was written by Bamford just hours after the birth of his son Nash. His friend and mentor, accomplished Nashville writer Bryon Hill, penned "My Daughter's Father." Bamford's son is featured in the video for "Little Guy," while "My Daughter's Father" stars wife Kendra and daughters Paisley and Memphis.
Gord Bamford is the seventh Canadian artist in history to score a No. 1 Country single in the BDS era. He also celebrated five awards from seven nominations at 2013's Canadian Country Music Awards, and he's a 16-time CCMA winner all-in. More at
www.gordbamford.com
Upcoming tour dates:
June 21 Country Jam Grand Junction, Colorado
June 24 PACE Theatre Parker, Colorado
June 27 Headwaters Country Jam Three Rivers, Montana
July 4 Cavendish Beach Music Festival Cavendish Beach, PEI
July 6 Calgary Stampede Calgary, Alberta
July 10 Common Ground Music Festival Lansing, Michigan
July 11 Peace Fest Peace River, Alberta
July 13 Craven Country Jamboree Craven, Saskatchewan
July 27 Country Thunder Twin Lakes, Wisconsin
Aug 3 Boots & Hearts Toronto, Ontario
August 9 Rockin' River Music Festival Mission, British Columbia
Aug 22 Music In The Fields Lucknow, Ontario
Aug 24 Canadian National Exhibition Toronto, Ontario