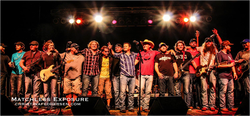 "WADE BOWEN CLASSIC" CELEBRITY GOLF TOURNAMENT AND CONCERT, BREAKS RECORD RAISING MORE THAN A QUARTER OF A MILLION DOLLARS FOR CHARITY
Award winning singer/songwriter Wade Bowen hosted his 16th Annual Bowen Classic celebrity golf tournament and concert on June 1st and 2nd, in his hometown of Waco, TX. The event featured friends and fellow artists who helped to raise funds and awareness for The Bowen Family Foundation. This year's record-breaking event raised more than a quarter of a million dollars with the help of approximately 4,000 fans, friends and locals who came out to support the cause.
"What an amazing year! I still cannot believe how great everything went and the turnout we had. Waco and its surrounding communities have really jumped on board and supported this event like I never imagined," says Bowen. "The jam was probably the most fun I've ever had on stage with some of my best friends! I truly cannot wait until next year to do it all over again!" continues Bowen.
The event, which kicked off with an all-star concert on June 1, featured Bowen along with friends and fellow artists, including Kevin Fowler, Mark Chesnutt, Randy Rogers, Pat Green, Stoney LaRue, Whiskey Myers, William Clark Green, Cody Canada & The Departed, Micky and the Motorcars, Josh Grider, Adam Hood and Chris King. On June 2, the two-day event ended with a sold out record breaking attended golf tournament at Cottonwood Creek Golf Course. After this years event, Bowen is now closing in on raising one million dollars for various local organizations in need.
ABOUT THE CHARITY:
The Bowen Family Foundation was established by Wade Bowen and family so that funds raised from his annual charity event could be shared with many different organizations in need each year. A portion of the 2013 event's proceeds will be donated to a trust to support and benefit the rebuilding of the West, Texas community.
For more information visit
here
.