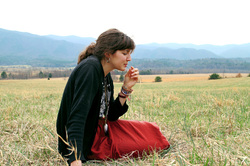 Can't wait for new music from Caroline Rose? Well, she is "appeasing those who no longer buy music" by offering a free download of a new track entitled "Tightrope Walker." The song will be featured on her upcoming record,
I Will Not Be Afraid,
due out August 19th. You can click to download the track below.
Read our interview with Caroline
here.
If you're local, Caroline Rose will be playing at Joe's Pub in NYC on August 20th at 8pm. Tickets and information
here.
To keep up with Caroline, visit her
official website
.