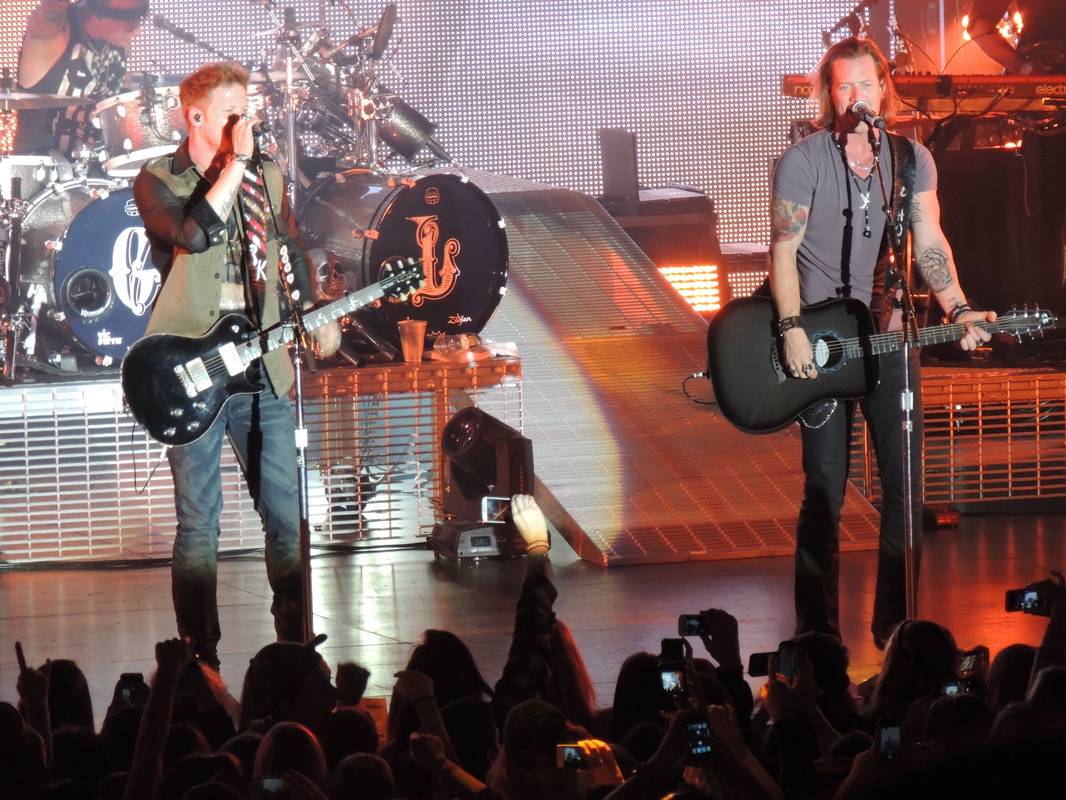 Florida Georgia Line spent 4 days in NYC this week with appearances at multiple events as well as three sold out shows at the Best Buy Theater in Times Square. On Wednesday night, we got to catch up with them
prior to their show at the Best Buy for the 10th Anniversary Billboard Touring Conference Concert presented
by Citi.
When asked about their mentoring Chris Lane and Dallas Smith, Brian had this to say:
"Well, our management, publicity and production company Big Loud Mountain works with them & before
it was official we knew got to know them pretty well. They are two artists, two amazing guys we believe in and want to help out. We learned early on from Jake, Taylor, Luke and Colt. They took us under their wings and taught us. We are at a point now where our voice is a little bigger. We learned a lot touring in the past but also just this year alone playing 233 shows, you meet a lot of people and we always said we wanted the music to be bigger than us. Whether it would be donating to a cause, helping another artist out, we'll
do anything we can. But number one, Dallas and Chris' music speak for themselves. They don't need much help but any help we can give them we are all about that."
You wrote Dallas' single Tipping Point along with Jaren Johnston. Will you be writing more for others and how do you decide which songs are for FGL and which you'd have someone else record? Tyler had this to
say:
"As songwriters, we just write to write. It's cool to write a song and say this is definitely FGL, this is what we want to perform and sing. And sometimes we think this is an awesome song, but don't think it's for
us, it would be better for a different artist. We just write songs for the love of it you know. It's really cool to have buddies in different bands. Some songs fit them better than they do us and vice versa, it's fun to spreads the love. Honestly it's an honor to have any kind of cuts outside FGL."
When asked to sum up the year they have had in three or four words Tyler answered "very, very blessed." To which Brian added with a smile "Amen…..that's four!"
Next up was the Anniversary concert. Chris Lane, who is from North Carolina, opened the show with a country rocking set that fired the crowd up for what was to come.
Canadian Dallas Smith gave an energetic & electric performance. Dallas, who previously was a member of highly successful rock act Default, brings a rock edge to his country. He played songs from his successful Canadian debut
Jumped Right In
as well as his current single 'Tipping Point' which is featured as a Highway Find on Sirius XM's The Highway.
Long after 9pm, FGL came onto the stage and the energy in the almost 3000 capacity venue reached new heights. There were hands in the air and a party atmosphere that lasted through their entire set. There guys have a mission and that is to throw you a party, make sure you forget your troubles and have a
few hours of fun. Mission accomplished, these guys deliver on all counts live.
The deluxe version of
Here's to The Good Times That's How We Roll
is available November 25th.
For more information including where to catch them on tour check out
www.floridageorgialine.com