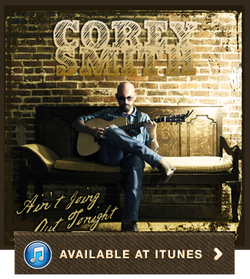 Corey Smith might be new to many country music listeners, but he is certainly not a new artist. Born and raised in the town of Jefferson, Ga., just a few miles northwest of the musical hotbed of Athens, Corey has carved out a successful career by writing and singing not about the idealized country imagery of trucks and bonfires, but by depicting truthfully the experience of growing up far from big-city sidewalks. "Country music is all those things that art is supposed to be. It's populist, it's infectious and, most importantly, it's about people," says Corey. "So country music should be about artists holding a mirror back to themselves to reflect what they're experiencing in their own little towns."
Corey has amassed an unfailingly devout fan base, not only in his native Southeast, but all around the nation, simply by telling it the way it is. He has released seven studio and one live album, all written and produced by Corey himself. And his concerts regularly sell out, with audiences singing along to such favorites as the coming-of-age anthem "Twenty-One," the nostalgic "If I Could Do It Again" and the group hug "I Love Everyone."
Corey was in NYC this past week headlining the
Movin' On Up Tour
sponsored by Ones To Watch and Texas Pete. He graciously agreed to chat with us before his show at the Gramercy Theater.
You are certainly not a new artist, but you are new to a lot of people. Can you tell us a little bit about yourself?
Yes, most people have never heard of me and when they do they usually hear about me from a friend or they come to a show. I am not a celebrity by any means, but I am very happy because I have a solid touring career and passionate fans that are now spread all over the country. I have been making music since I was a kid. When I was a teenager, I wanted to be a rock star. But then I grew up, met my wife, took my education very seriously and became a school teacher. I taught high school for four years. At that time I really came into my own as a writer. I started writing for me, because it made me happy. I had a forty five minute commute to the high school every day and I would write songs on the way in and on the way home. Even at the house, I was always writing and playing the guitar. Then I started playing bar gigs on weekends. The real turning point was when I won an open mic night. The prize was twelve hours of studio time. By that point I had written 60—70 songs, so I picked what I thought were the best bets. I had to put a little of my own money, $800, in it because it took six more hours to get it finished. It worked out well. "Twenty-One," which is a song from that first record, is probably my most popular song to date and the album sold 80,000 copies. So next year I played more shows, saved more money and made another record and the same thing the following year. All the while, I was living within my means and happy to be making music.
We toured initially in the Southeast and then eventually traveled in larger circles farther from home and now eight records later we have toured everywhere in the country. And now we are on our ninth record and it feels like everything is finally coming to fruition. I certainly didn't do things the traditional route by going to Nashville and looking for a record deal. We took a longer path, but I am certainly glad that we did it this way.
When did you first pick up the guitar and start playing?
I have been around music my whole life. My dad was in a band and my keys player, Lee, played piano in dad's band when I was little kid. They would always be practicing at the house. I didn't really start playing though until I was 15years old and at my grandparents on spring break. I spent a lot of time at that house, but it was not on a beach and I was bored out of my mind. My cousin had an acoustic guitar and songbooks with chords and lyrics from artists like George Strait, Bob Seger and The Eagles. I decided that I would play the guitar and learn those. As I played, a lot of stuff I learned from my dad kicked in. I sang in the church choir and the chorus at school since I was a little kid, but it wasn't until I picked up the guitar that everything clicked. Senior year of high school I really got my act together. I started playing mostly cover songs from alot of different genres. We covered everybody from Hootie and the Blowfish to Matchbox 20, Jimmy Buffet, Garth Brooks, Willie Nelson and The Allman Brothers.
So then you must pull your influences from a variety of genres?
Yes, I pull from a bunch of things. When I look back on it now I was most definitely influenced by songs I learned in church as a young kid. As a teenager I loved Strait and Brooks, but country was something my grandma listened to, so I couldn't admit to friends that I was listening to David Allan Coe and country artists. I listened to the alternative rock of 90s, like Nirvana, Soundgarden and Pearl Jam, but I think that was more of me making a statement, being rebellious.
How did you make the decision to quit your teaching job and pursue music full time?
I'm not a big gambler or risk taker. That's probably why I never made the leap to Nashville. The reason to leave teaching was the math. I was already selling out shows in GA and SC and had regular gigs in Atlanta. Basically, I was calculating how many gigs a month I needed to do to make it. The tipping point though was when I played my first show at the Georgia Theater in Athens. Now I lived and went to school near there and saw shows there. My first show there, I was really nervous, I figured we would sell maybe 300-400 tickets. The show sold out in advance which amazed me. That's like two to three months of teaching in one night. I felt it was like God sayin' I know u don't take risks, but you should take this one, I got this covered, don't worry.
He definitely had you covered. You have played over a 1000 shows, with hundreds of them sold out. You have also sold 1.8million digital downloads. This speaks to a loyal fan base.
And I'm very loyal to them. I feel a sense of responsibility to them. It doesn't mean they'll agree with me on everything I do or every song I put out but at the end of the day I realize they've given me this opportunity and I take that seriously. When I'm making choices I consider them. I think they respect me for path I have taken.
I
haven't always done what's popular, but I do what's authentic for me. Artists have to struggle with art and commerce and popularity vs authenticity. I try to err on side of authenticity whenever I can and I hope that comes through.
Have you played NYC before and how was crowd reaction?
I have played here before, quite a bit. I come up about once a year. I was thinking about that this morning. Out first show here was at BB Kings, but we have also played the Highline Ballroom, Mercury Lounge, Bowery Ballroom, and Rockwood Music Hall. They have all been great crowds and I think that speaks to what we do. Sometimes it may take awhile, but people keep coming back. I think people come, have a great time and feel a connection to the music. So they come back again, bring some friends and it happens that way.
Your current single is "Ain't Going Out Tonight." It is an extremely relatable song. Can you tell me a little bit about it?
It's a personal song, but not something that was personally happening to me at the time I wrote it. It's the kind of stuff I went through early on; getting married and making sacrifices. It's a song about romance, but on a deeper level it's about the stuff going on in my career the past few years. It is about honing in on and realizing whats important and making changes and setting priorities based on that. I thought deeper about my career, but had to analyze it differently taking into consideration my family, what is most important to me and what I cherish the most. My joy is songwriting and speaking from the heart. I have made a lot of decisions the past few years focusing on that and tried not to get pulled into a lot of distractions.
The song can currently be heard on Sirius XM's The Highway. What does them playing your song mean to you?
It is incredibly validating to have airplay like that across the country. I mean, it's something every artist wants, to hear their song on the radio. For the Highway to take a chance on someone like me, it says a lot about them and how important it is to them to get new music heard. I cannot express to people enough how that makes me feel. A lot of my fans, some of whom have been coming out for a decade, would ask why aren't you on the radio, so I know they feel validated as well.
However, I haven't heard it on there yet, we don't have satellite on bus. My wife does have it in her car. One time we were driving with the kids and listening to Sirius, but then I had to turn it down to lecture my kids because they were doing something in the backseat. I finished talking to them, looked down and there was my name with the song title. I turned it up and it was literally the last note, so I have yet to hear it on the radio. I joke with my kids that they made me miss hearing the song.
Do you write all of your songs or collaborate with other writers?
I have written all the songs on all of my records by myself. The kind of artist that resonates with me tends to be the pure singer songwriters. I like John Mayer, Paul Simon, Bob Dylan and Merle. I like knowing that I'm hearing that person's point of view
on reality. I don't want to hear them agree with someone else, I want to hear their thoughts and that's the kind of artist that I want to be.
Your songs are truly about everything from drinking to relationships to things in every day life. The lyrics are honest, heartfelt and believable. Do you think this is why you connect with fans?
I hope so. I am being as honest and genuine as I know how to be because that's what I want to sing. I'm often pigeon hold as the rowdy college party guy because my most popular songs tend to be party songs. Some can be nostalgic drinking songs with bad language. But there is a lot more to that if you dig into my records. Just don't take one song at face value. Each song captures a certain mood in time, a snapshot of my inner world. Fun songs are great to listen to and play but it's just one sliver of who I am and of my personality. If those are the types of songs that will bring people into my music to listen to some more, I'm fine with that.
All of your previous records you have produced yourself. You are working on a 9th album, this time with a producer. Talk a little bit about that.
I've co-produced other albums with Lee, who has been a mentor to me in the studio, but the bulk of the decision making was on my shoulders. In a way, that was really good. I learned a tremendous amount especially about my limitations. Artists don't necessarily don't make the best producers because we tend to over think things. Now I am working with Keith Stegall who has produced ZBB, Alan Jackson, Merle and Randy Travis. Keith can really help get me to the level I want to be at as an artist. Having him also takes the pressure off of me to make every decision. It is been such a great process, we hope to have the album out sometime next year.
This tour finishes up this weekend. What are your plans after that?
Touring is my life, so we will just keep on doing that. This was the first time we had a tour with an actual name,
Movin' On Up.
We used to do 170 dates in the past. Now we do around 130. I will still be touring the rest of the month, then next year we go out with Darius [Rucker] for eight dates.
Lastly, I love to know what are you listening to now?
Actually on the plane I downloaded Hootie's
Cracked Rear View and Fair-Weather Johnson.
I love those records, both were a really big deal to me. I knew every song from those records when I started out. I emulated their sound because they were doing something fresh in the 90s when hair metal was the big sound. They also seemed like ordinary guys, very real and accessible. I am a fan and I have met Darius before, but I am not sure if he knows what a big deal he is to me. Darius was a huge inspiration to me. He made me want to work harder and get better. It is a blessing to be on any big tour, but fact that it's Darius makes it that much more special.
For more information visit
www.coreysmith.com
Follow Corey on Twitter
Find Corey on Facebook

You can watch the video for "Twenty-One" and his current single "Ain't Going Out Tonight' below.