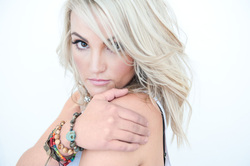 Jamie Lynn Spears moved to Nashville a few years back to raise her daughter and focus on singing and writing country music. She recently released her first single to country radio, the beautifully traditional "How Could I Want More." Jamie Lynn graciously called into TDC to chat about the single, writing and more.
You just released your first single to country radio, "How Could I Want More." Can you talk about the story behind the song and how you came to write with Rivers Rutherford?
JLS~Well, I moved to Nashville after I had my little girl because music was something I wanted to pursue. I really wanted to be in a place where I could dig in and figure out who I was as an artist. I started working with Chris Tompkins and Liz Rose and a few other people. Someone had suggested writing with Rivers. My people had set up a writing session with him and that first day that we met to write, we wrote this song. At that time, my now fiancé and I were going through some ups and downs. I had broken up with him and we were at a crossroads. I wanted to be a mom, be in Nashville and focus on music, but also wondered how could I want more when this guy was so good to me. I was in a vulnerable place. Rivers, who is a very talented songwriter, was able to pull a great song out of me. Every time I sing it I get emotional. I was in the studio singing it and I got very moody, crying, and thinking that everyone there must have thought I was crazy. Corey, my producer, appreciated those emotions. After about an hour I got myself together and said ok lets do it again, so we could get the most perfect version of the song. But Corey thought it was perfect. He said "we feel it when you sing it and honestly I like to hear your voice break." That's why he is such an amazing producer and I am so lucky to have him.
The song is very traditional sounding. Is that the type of country music you are drawn to?
JLS~I would definitely sing and write songs like "How Could I Want More" every day, that is what I want to write and sing. I just love really being emotionally connected to every song and if I could do a full album like that I would. But then again, I don't want to make a depressing album. I do have fun songs that I think can connect as well. I have young listeners and I want them to have a
good time. However, my music is definitely a more traditional country.
A lot of people were skeptical to hear the song, but most everyone who hears it, loves it. It has recently charted on Billboard. What does fan reaction like that mean to you?
JLS~You can't imagine my reaction whenever Billboard contacts me about the single. There are not really words for it. Because the song was so personal, I felt I was taking a risk putting a ballad out and seeing what it would do. When I heard it was doing well, it was unreal. It was the best reaction I could have asked for.
So why was now the right time to release a single?
JLS~There were alot of opportunities that people have said "oh you should release it here or there." But Liz Rose, who I call my music mom, told me that when the music was there everything else would just come into play and it would be the right time. I just tried to focus on that and dig in and work. The music was right and that's when I felt ready to release it, it made sense.
The video for the song shows you as being actively involved in the songwriting process. Was that intentional?
JLS~Oh yes, definitely. This has been a learning process. I am 22 years old and learning was one of the main points for me when moving to Nashville. I wanted to fully immerse myself in writing and figure out who I was going to be as an artist. I went to voice lessons and guitar lessons two times a week. I love being involved and wanted to understand everything. I still have so much to learn; although the technology part is the toughest, I'm not sure I'll ever understand that. I wanted to learn so that I could better translate what I wanted to do to my producer and players. That was very important to me. What is terrific is that I landed a producer who really gets me and teaches me because he knows how important it is to me to be involved.
You were so young when you started out as an actor. When did you know that writing and singing were things you wanted to do as well?

JLS~I was nine and a half when I started on the tv show. I didn't know what my future was going to be and I didn't make decisions for myself. I took to acting because I had a creative fire in me that needed to get out. Acting was the first opportunity for that, to channel that creative energy that I have always had. As I became an adult and started making decisions for myself, things changed. Music was a big part of my life since I was born and now that I am an adult and have a little girl, music has been my heart.
Do you have a hand in writing your songs and does having a daughter impact what you write?
JLS~Yes, I have written every song I have recorded so far. We are going to take a writing trip with my favorite writers and producer and see what we can do. But I have a large catalog of songs so I might dig those out as well.
And most definitely, children affect everything and every aspect of your life whether it's working or writing. When we were in Nashville by ourselves, we had a very special bonding time. My music has been fully impacted by her.
Has there been label interest and will there be a full album?
JLS~Yes, there is a full album in the works. We haven't really had any conversations with any labels, but I am sure at some point in the near future that will make sense.
What do you think makes a good country song?
JLS~Honesty. It transcends any genre, any person, any age. It just what makes any music good.
What did you listen to growing up and who would you consider your influences?
JLS~Well, my Daddy was a born and bred southern man. He listened to Pam Tillis and Loretta Lynn. I am Daddy's girl so I listened to whatever he listened to. But my sister and I also liked to listen to the Dixie Chicks.
Do you have a favorite country song?
JLS~That's a tough one. It's hard to pin one down, because I will think of another one later and then I'd be mad at myself. But Daddy really liked Alan Jackson's songs.
Is there a male artist that you would like to sing with?
JLS~I love Garth Brooks.
Some people comment on the lack of females in the country music industry right now. What are your thoughts on that?
JLS~You'll definitely notice on the charts that there's more men than women. I think this is just where country music is right now. There are a lot of great females out there who people are connecting with right now. But I believe that as long as I get out there and do my best and write honestly, that will transcend male or female.
Lastly, what are you listening to now?
JLS~Well, I always say this because I cover one of her songs in my set, but I like Holly Williams a lot. She's definitely a favorite. With my daughter in the house we listen to Bridget Mendler and Ariana Grande (from the television show Sam & Kat). We dance around a lot. You might not want to see it, but we have a good time.
For more information check out
www.jamielynnspears.com
You can watch the video for her current single below.