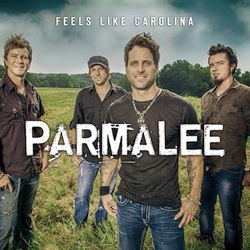 From a small town and a small tin-roofed barn named Studio B, Parmalee launched their long journey to Nashville. The near-fatal robbery they experienced after a show would have destroyed most bands. But brothers Matt and Scott Thomas, cousin Barry Knox and longtime friend Josh McSwain didn't call it quits. Instead, they reinforced their motivation, dedication and determination to succeed.
Matt and Scott Thomas grew up near Greenville, NC watching their father Jerry front a popular local southern rock blues band. The boys watched and learned, picking up their own instruments and jamming along with their dad's band. From this they learned how to integrate their own style into the songs they were playing. Barry Knox loved what his cousins were doing and joined them. The Thomas Brothers Band, as they were first known, played the local club circuit and would often share the same marquee with a cover band that starred their friend Josh McSwain. Like the Thomas', Josh also traveled and played with his father. A fan of Josh's musical abilities, Matt invited Josh to play with them. The foursome clicked and from that first gig in 2001, Parmalee was born.
The band's dedication and perseverance paid off in 2013. Their debut single, "Musta Had A Good Time" was #1 for four consecutive weeks on SiriusXM's The Highway "Hot 30 LIVE" countdown and the song became a Top 40 hit on mainstream country radio. In addition, the song was featured in national sporting event broadcasts from the PGA to MLB. Parmalee was named a "Bubbling Under Artist" by Billboard magazine (June 2013) and one of Clear Channel's NEW! Artists to Watch in 2013. Parmalee also performed as part of MTV's 2013 O Music Awards. Their second and current single, "Carolina," became their first #1 at country radio this week, just after our interview.
We recently had the chance to talk with Matt Thomas (guitar, lead vocals) about the record, the amazing year they have had and what's ahead.
TDC~Congratulations on all of the good things that have come your way this year. You guys have been together for such a long time, how does it feel to finally have all this success after putting in so much work and dedication?

MT~ We are just trying to take it all in. We don't know how to act because it really doesn't seem real. Our mindset is to keep our heads down and keep plugging, although we do raise our heads up and smile a little bit more now. It is mind blowing to have been through all we have and all of a sudden to have these good things happen. It's wonderful and very gratifying, I just can't explain it.
After a show on September 21, 2010, Josh and Barry were packing gear in the venue while Matt and Scott were loading the RV when two armed men knocked on the door. The men put a gun to Matt's head and demanded money. Shots were fired. Scott, who possessed a concealed weapons license, fired back. One of the gunmen died and Scott was shot three times. One bullet hit Scott's femoral artery causing him to nearly bleed to death. "He bled out on the air flight to Charlotte, and his heart stopped twice," Matt recalls. "When we got to the hospital, the doctor gave him a five percent chance to live." Scott was in the hospital for 35 days and Parmalee's fans came out in droves to assist with medical bills and provide support. In 2011, Scott was well enough to get behind a drum set again.

TDC~You guys have been through so much professionally and personally. When the attempted robbery and shooting happened you guys could have given up, but you didn't.

MT~Well, anybody in their right minds probably would have done that, but we have never been those guys. If there was even a small chance we could do it, we knew we wanted to go after the small chance. We never really thought about stopping. I think we actually switched into another gear and became more determined with our music, that's what got us through that time.
TDC~Your debut record Feels Like Carolina will be released on Stoney Creek Records on Decemeber 10th. Talk about the record, why that title and how involved were you in writing the tracks?

MT~We had a couple titles we were thinking about. We wanted to use "Carolina" because at this stage people know the song more than they know us. We wanted to make sure that people could relate the title to the song to the band. It was also a place that influenced us because it was where we grew up and where our family actually came from. We had a hand writing in writing seven out of the twelve songs on album. I really love "Day Dreamin'" because it is so different and fun. I like playing "Think You Oughta Know" and "Close Your Eyes". I have a bunch of favorites, I can't really choose.
TDC~ Your Dad played in a southern rock blues band that you guys also then played in. Talk a little bit about that.
MT~ It was cool jamming with him. He was the first guy we ever played with as kids. We practiced and finally got to the point where we were good enough to play with him. I wouldn't trade any of that, it was the best experience of my life.
TDC~ Your music incorporates a lot of genres from country to rock to bluegrass. Where do you draw your influences?
MT~We draw from so much. My Dad was the Greg Allman, Bob Seger, Otis Redding, soul kind of guy. When we were kids, we listened to stuff form the 70s like it was nothing. We grew up on rock and pop and some hip hop. The country artists we liked included Garth Brooks, The Kentucky Headhunters and Travis Tritt. We literally listened to everything.
TDC~Carolina has already produced two singles. The first, "Musta Had A Good Time" was a huge hit on Sirius XM's The Highway. They really support the artists they believe in. What does their support mean to you?

MT~ I have to give The Highway credit for kickstarting our career. They truly support us and have become great friends of ours. Everything we used to do was regional and now we are seeing our first real crowd reaction from across the country. People are coming to our shows for the first time and singing the words to our songs and it is because of The Highway. We owe them so much and look forward to doing a lot more stuff with them.
TDC~The second single "Carolina" which was also #1 on The Highway's countdown, is sitting at #2 on the country charts. It looks like it is headed to be a #1 single.

MT~ Man, we'll keep our fingers crossed and hopefully the man upstairs will look out for us. We'll keep our heads down and keep working.
TDC~The Highway's countdown is fan voted as is CMT Pure on which the video for "Must Had A Good Time" reached #1. Recently, readers of The Boot voted your album the Album of the Month for December. That really speaks to the loyalty of your fan base.

MT~We really have some die hard fans who have been with us for so long that they are as invested as we are. They want it as bad as we do, even the new fans too. What we want to do is make that connection with people. I think it's happened and its crazy to see that, especially across the country. We want everyone to feel like a family, that's why our fans call themselves the ParmaleeFamalee. It is very gratifying to have such a loyal fan base.
TDC~You were the first artists selected by Southwest Airlines to perform on their Southwest Airlines Travelin' Taylor Tour Series and you played the Opry for the first time. Can you tell us a little bit about those experiences?

MT~The Opry was unbelieveable, it is like a family there. It was so special to stand in that circle. Everyone was very kind to us. Our grandmothers made that show too. The Taylor Guitar flight was crazy. We were at 30,000 feet and broke out the instruments. No one knew we were going to be there. It was a cool crowd. They loved us.
(Laughing)
It was a sold out show with a captive audience and nobody left! That's the best type of show to play.
TDC~ So with all of these career milestones this year, can you pick out any one thing that has been the highlight?


MT~ Honestly, over the past six months there has been a new highlight every day and we are just trying to let it soak in. We are presenting an award at the ACAs, we are so excited about that. Our song being at #2 is just crazy, unbelievable. When we got signed two years ago that was the biggest thing that had ever happened to us. Now it is incredible to see what you have been working so hard for to start happening. It is hard to believe, but we are going to be thankful, keep our heads down and keep working hard.
TDC~ What are your plans for 2014?
MT~ We are going to tour. It will be fun to gear up and officially have an album and focus on getting the show right. We are revamping the show around the album. We want to have fun and give the fans what they need. We are releasing another single, although we don't know which one that is going to be.
TDC~We love to know what artists listen to. So is there an album, any genre, that you have on repeat?
MT~Scott really likes Jamey Johnson's
Tribute to Hank Cochran.
I have been listening to Bruno Mars'
Unorthodox Jukebox
and I just bought Jake Owen's new record, so I am just digging into that. But my favorite album of all time is
The Allman Brothers Band: Live at The Fillmore East
. It's my go to record when I just want to relax.
Parmalee's
Feels Like Carolina
will be released on December 10th. The album is a true record; one you can listen to straight through without skipping a track. Those records are few and far between, so grab yourself a copy on release day or head to
www.parmalee.com
and order a copy (or two).
You can read our review
here.