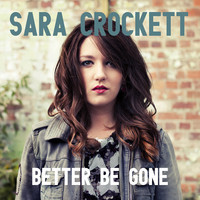 We love new artists who make good music. One young woman from Ireland is doing just that. Her name is Sara Crockett. In 2013 alone, Sara supported Nanci Griffith, played at the Bluebird Cafe and on WSM radio, and released a debut EP,
Better Be Gone
. Sara graciously agreed to chat with us via email about music, influences and what's ahead.
Can you tell us a little bit about yourself?
I am a 21 year old, singer songwriter from a small village called Ahoghill in Northern Ireland. I have been hooked on creating music since I first tinkled the ivories at the age of 5. Growing up, the radio was always on in our house and I was lucky to have a family who have always supported and encouraged me
.
My solo career was raised from the ashes of a rock band which I fronted while in school called "Goodbye Pluto." In our time, we managed to support British recording artists Taio Cruz and Pixie Lott. We also collaborated with and co-wrote a track called "The Hardest Thing" for Filo & Peri. I threw myself into writing after I received my guitar as a 19th birthday present. Country music was the genre that I truly loved the most and it felt right.
I have since went on to support Nanci Griffith during the Belfast Nashville Songwriters' Festival, traveled to Nashville twice this year and released my debut EP
Better
Be Gone
all while studying for a degree in Dentistry at Queens University Belfast.
Being from Belfast, how does one get involved with country music, especially as a career? Was it something you grew up with?
I grew up listening to my Dad's records which included Dolly Parton, Nanci Griffith, and Willie Nelson. Every Christmas a Live DVD of the Highway Men would be on during the festivities of the evening! There are some great outlets for country music in Belfast. For example, this year will be the 10th anniversary of the Belfast Nashville Songwriters' Festival. This event involves over 100 songwriters both locally and from the States. In the past it has brought in writers like Chris Young, Bob De Piero, Brett James and Lee Roy Parnell. There is also Belfast Music Week in November which has Nashville music executives travel to Ireland to participate in the events. Country's popularity is growing here. Even though I am still living in Belfast, after spending some time in Nashville this year, I think an extended stay there could be on the cards once I wrap up my degree.
Is country the genre you were always drawn to? Who are your musical influences?
A good song is always going to be a good song, no matter what genre, so anything with a hooky melody that makes me want to sing along will catch my attention! In my teens when I was in the band we drew a lot of influences from the likes of Paramore and Jimmy Eat World, but country is the genre that I love the most now, partly because of how clever and powerful the lyrics are, and also because country artists genuinely have incredible voices both live and on record. I have seen The Band Perry live on numerous occasions and am always captivated by their performance. Holly Williams' lyrics are so powerful and can always make me cry and Kacey Musgraves – she just says it how it is and I love that. March 2014 brings a great opportunity to hear even more acts that I have looked up to through the years like Brad Paisley, Dixie Chicks, and Rascal Flatts, through 'Country2Country' a festival held in Dublin and London. It's going to be amazing.
Your lyrics are really honest & relatable. Do you write your songs yourself or do you have co-writers?

Thank you! Song ideas are often drawn from my own personal experience, trying to capture exactly how I felt at the time, knowing that I will not have been the only person to have ever been in that situation. I love co-writing, bouncing ideas off each other and feeding off each other's creative energy. For my EP I took five songs into the studio with my producer Tre Sheppard. Together we reworked some areas and really gave the songs that extra sparkle. I was privileged to encounter Benita Hill while in Nashville ("Two Pina Coladas" & "It Was Your Song" for Garth Brooks) and I am very excited that she is one of the writers on what is due to be my next single "Honeytrap."
Do you play an instrument?
The first instrument I ever laid hands on was the piano, but I have picked up guitar and fiddle along the way. The latest addition to the family is a ganjo, it is very, very cool!
How did it come about that you were able to open for Nanci Griffith?
I had just launched myself in January 2013 with my first recording of "Hide & Seek" (which was rerecorded for the EP). A lot of my progress from that point on, I owe to the Belfast Nashville Songwriters Festival. I first met the organizers at a song writing workshop in conjunction with the festival in Belfast. I gave them a CD with that one track on it and within a month was given the news that I would be supporting Nanci Griffith in concert. I was so excited and have to admit that I did have a little cry to myself when I got the news! Nanci's music had been playing in my house for years, and it was such an honor to play before her.
Then you came to Nashville and played at the Bluebird and WSM. Talk about those experiences.
It was in May 2013 that the organizers of the
Belfast Nashville Songwriters' Festival
got in touch to invite me along as one of four chosen artists to showcase in Nashville in June. We would play in various venues around the city, and get an insight into the music industry through meeting with successful songwriters, producers, management and publishing companies. We got to share the stage with big hit
songwriters such as Lee Roy Parnell and Benita Hill. Our main showcase was in the Bluebird Café. It was such a pleasure to play on that stage where so many country music greats had gone before, and so early in my career too. I am very lucky! Another highlight of the trip was being invited to chat and perform live on air on WSM 650 AM on 'The Music Row Show' with Scott Southworth and Heino Moeller. To play on the same radio station that is home to the Grand Ole Opry was an amazing experience. As an aspiring country artist, I couldn't really have asked for a better kickstart to my career.
I then took myself back to Nashville for six weeks in the summer. I just wanted to be surrounded by the music and the writers, to listen and learn. I reconnected with people from my previous trip with the festival the month before, arranged co-writes with songwriters I met along the way and played out myself too. A few of the venues I played in my time there were The Commodore, Silver Dollar Saloon and Two Old Hippies for Billy Block's Folk Night. I attended a lot of writers nights just as a member of the audience, amazed and inspired by the level of songwriting every time. Of course, I was a tourist too, there was lots I had to see! You name it, I saw it including the Country Music Hall of Fame, Studio B, Belle Meade Plantation.
What are your plans for 2014?
I hope to release a new single in the not too distant future, and I'm currently making plans for my first ever video shoot which is very exciting! I just need to keep writing, keep playing out and meet and gain more brilliant fans along the way! I hope to return to Nashville again in the summer. I loved the time I spent there this year. It is amazing town full of crazy talented people who were all very welcoming to an outsider like me. I can't wait to get back!
What are you listening to? One record on repeat, any genre.
Folie a Deux
by Fall Out Boy. Ok, so I know it's not country and I know it was released in 2008, but I found this album over Christmas again, one of my all time favorites. I am so glad they have reunited, and I hope to catch them in Dublin on their Save Rock and Roll European Tour in March. It's sold out but I will find tickets. somewhere!
To find out more and hear Sara's music, visit her
website
and her
Facebook
page
Twitter @Sara_Crockett
Spotify and iTunes