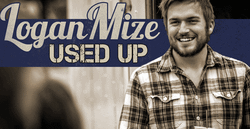 Logan Mize is a country music singer songwriter from Clearwater, Kansas. His album
Nobody in Nashville
, released in 2012, charted at #49 on Billboard's Country Albums and #15 on Billboard's Heatseekers Albums Charts. Logan has also had success as a songwriter when Bucky Covington recorded his song "Mexicoma" for his album
Good Guys
.
Logan's current single "Used Up" can be heard on Sirius XM's The Highway, where it is climbing the charts. Logan graciously took time to call in from his home, where he was spending the day writing.
You have been in the business for a few years now, but a lot of people unfortunately don't know your music. Can you give us a little background on yourself?
There are lots and lots of people that don't know me or my music. I grew up in Kansas and started playing piano at age seven. I loved music, but it was nothing I ever thought about doing professionally. When I went off to college, I took one of my dad's guitars with me. This was against his will though, because he thought I'd do something to it and ruin it. I surprised him, because I actually sat down, taught myself and learned to play. Even before I learned cover songs, I had songs of my own because I had a book of poetry that I had written. I put them to music when I learned four chords.
Even though I played the piano, I never put two and two together until I played the guitar. After I learned more chords, I wrote more songs, maybe twenty or thirty. During college, I was coming to Nashville more than I was attending class. I would come down every Monday and play the Bluebird, meet people and write songs. So I dropped out of college, went back to Kansas and took a job framing houses in order to save money to move to Nashville. I saved money, but by the time I got to Nashville I think I had about $60 left.... which wasn't enough to go back to Kansas. So I took a job real quick and got by, all the while trying to figure it all out and here I am.
In 2009, I released an independent record, which was hit and miss. There were a few things I did on there that I liked, and some that I know weren't good. Then I signed to Big Yellow Dog Music in 2010 and recorded another record,
Nobody in Nashville,
with Daniel Tashian producing
. That record was better, yet there were still a few things where I knew I didn't quite have it yet. Now, I am at the point where I have figured out what I want to say and what I want to sound like. I'm working on a new project and am really excited about it.
Your music has a bit of a rockin' edge to it. What was it that drew you to the country genre and do you have any specific influences?
I never labeled my music really; it just seemed to naturally fall in the country category lyrically. I listened to everything growing up. My favorite was Elton John, I wore those records out. My mom was a huge Aerosmith fan, so I loved them as well. Lots of people where I'm from loved Skynyrd, but I was really into Tom Petty and the Hearbreakers and Alan Jackson. I thought Alan Jackson's songwriting was so simple and real, and in a language I could relate to. The town I grew up in was a farming community that had 1800 people. His music made a lot of sense to me. He had catchy hooks, great melodies and was an excellent writer. That's where country music hooked me.
Do you write all of your songs or do you also co-write?
I do both. I co-write a good bit, but I also write by myself. I have a little place here in the basement where I spend a lot of time writing.
Getting married and having a son have influenced how and what I write. My son had to have a serious surgery on his first birthday. That was really scary, both the surgery and being in the hospital for a week. I came away from that with a different perspective on life. What I write about now is a bit more mature than what the college party crowd wants to hear. There is a time and a place for those songs, and I'm a little more mature now I guess.
What do you think makes a good country song?
For me, the simpler a song is the better. It is important to let my inner self come through in a song. The best songs usually have a girl in them
(laughing)
with simple melodies and something people can relate to.
You have a song, "Used Up," that is doing very well on Sirius XM's The Highway. How did they come to play the song and what does that mean to you?
John Marks is an awesome guy. He wanted to play
Nobody in Nashville
, but we had put that album out independently and there was really no promotion, so it was never played. We came back to him and asked him if he would play one of my songs. He said of course, so we went and played him three songs, one of them being "Used Up." He loved it, said it sounded like a hit, started playing it and hasn't given up on it. People seem to keep requesting it more and more and I'm excited about it. The song didn't blow up, it has been a slow grower, which I think is good. Hopefully, the fans can push it to #1 [it currently sits on the Highway Hot #45 at #11]. I would love that.
Will there be a video for the song?
Yes, we just finished it back in Kansas, close to the town where I'm from. Other than the big ugly guy with the guitar who is in it
(laughing)
, I think it turned out pretty good. It should be done sometime this week and maybe out on the internet by the end of next week
Are you working on a new record?
That is the plan, but we are in the middle of label talks, so we have to wait and see what happens with that. I would love to put out an independent record to have some music out there, but I would also love to be signed to a major label, so my music can connect at a larger level. I will probably be working on music for an album for the rest of the year.
You have supported artists like Dierks Bentley and Eric Church in the past. Will you be touring in 2014?
We will tour for a bit. We don't have the entire year laid out yet like we usually do because that depends on what happens with the label talks. We will do selective dates though.
You seem to have had some great experiences. You were a part of the Blake Shelton Country Cruise. You also appeared in the Cotton commercial alongside Hayden Panettiere where you were shown playing at the Station Inn and on the television show Hart of Dixie. What is the one thing you want to experience this year?
I would just love for "Used Up" to make the transition from XM to FM radio and do really well on the charts. The song came from a real place, a personal experience. It's not a happy song, but thankfully it wasn't a permanent situation, just a bad day. It's a really relatable song, you know. Everyone has those feelings about their spouse, even if you are married for 50 years, sometimes you just get really upset and have an argument and want to say forget it.
To watch the story behind the song click here.What are you listening to now?
I am kind of in transition. I really wore out Jason Isbell's
Southeastern
and I'm
listening to the Allman Brothers a lot, but I'm looking for something new and fresh to listen to.
For more information please visit
www.loganmize.com
You can follow Logan on Twitter
@LoganMize
Find him on
Facebook
Watch the lyric video for "Used Up" below.