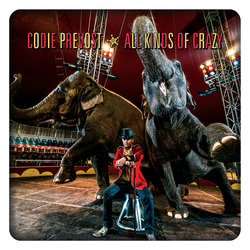 Codie Prevost, who hails from Canada, is a country music singer songwriter who is releasing his fourth album
All Kinds of Crazy
on March 1st. Codie, who got married last June, recently returned from a belated honeymoon rested and excited about the release of his new album. He graciously called in to chat with us to discuss the album, writing and his 'Imagine No Bullying Tour.'
You have had much success in Canada, but many people here in the States might not know you. Can you tell us a little bit about yourself?
Sure! I grew up in a small town in Saskatchewan that had about three hundred people. My Dad was a farmer; still has the farm today, and my mom owned a small bar. My mom and uncle would get together, pull out a guitar and play old country songs. I saw what joy and happiness just a voice and a guitar could bring. I thought that was really cool and thought maybe I would want to do that some day.
My mom always had music on in the house when she was baking or working, from Johnny Cash to Creedence Clearwater Revival. Listening to those records really influenced me.
When I was about fourteen, I took my mom's guitar to my bedroom and every day after school I taught myself to play. In junior high school, I bought an electric guitar. Then I started a punk rock band with a couple of friends and we would play every free chance we had. I was planning on buying a new electric guitar, but then an uncle, who lived in Calgary and who I was close with, died. He just loved country music. After his funeral I went into a music shop and something told me to buy an acoustic guitar instead of a new electric. I did and the first song I learned was "Folsom Prison Blues." It seems like yesterday that all started, and here we are now. It has been a whirlwind.
When then did you make the decision to have music be your profession?
I knew I loved playing music. I started writing songs when I was sixteen. It's not every day that someone from where I am wants to have a career in music. The challenging part was wrapping my head around actually doing it. I went to college for one year and entered different talent contests. I ended up meeting Al LeBlanc and we wrote and performed together. Then I asked him if he would manage me and help me book shows and he agreed. We are still working together to this day. We started out booking shows for $100 a night at small town bars. It was just me and a guitar for the first two years. From there it just snowballed. After a couple years of touring, I ended up going to Nashville to record my first record, which you know costs a bit of money to make. So I put together a business plan and went to a group of people in a town near mine, played them a few songs and got a small business loan. We recorded my first record in 2005,
The Road Ahead.
Ever since then, I have been traveling back and forth to Nashville. We recorded our second record,
Get Loud,
there in 2008.
Is it important to come to Nashville when working on a record?
Yes, it really is. There are great songwriters in Nashville. I felt that going there and being around songwriters helped me get that much better quicker. I got a chance to work with people who write every day. It was an eye opening experience. When I went into the studio and saw musicians play I was amazed. Still to this day, it is incredible to me how they can hear a song once and then go into a room, lay down the music and make it their own.
Do you like to co-write or write by yourself?
I do a lot of co-writing and really enjoy the process. When you have two times as many ideas flying around, the potential for a song really goes up. It's also good when you have writer's block because with a co-writer you can work past those blocks and get more done. I usually write ten to twenty songs a session depending who I am with when I am in Nashville. I come home with about ten songs. It really amazes me how songs can come together.
The new album All Kinds of Crazy has quite a few outside songs on it. I wrote my current single, "Someday," with a really good friend of mine, Adam Wheeler. I met him through a producer and I write with him every time I go to Nashville. The song has such a strong message of hope about getting through a really tough time in life. I was really happy with how it came together.
Talk a bit about the new album All Kinds of Crazy.
I recorded it in Vancouver with my producer Tim McKillip. It really does feel like my strongest record yet. This is the second time we are working together and it just feels like we are at a different level. We work well together and I was more comfortable with saying what I wanted and the vision I had for the album. One of the coolest things we did for this album was the cover. We went through many titles for the album before we decided on All Kinds of Crazy and we wanted to do something really unique for the cover. The designer for the album called me at night and said 'hey are you ready to do a photo shoot tomorrow?' I was a bit stressed out because I wasn't really prepared. We had talked about the craziest thing we could think of for this cover which was booking a circus. We really lucked out because there was one in town and they lent us their space. It was really just amazing. I have never done anything like that in my life. It was a little unnerving to have those elephants, who were a 100% real, next to me. The trainers were there telling me 'just stay calm' while I had trunks around my legs, but it went really well.
Do you have a favorite song from the album?
"Down The Line." I didn't write it, but I remember hearing it for the first time and just loving it. There are a couple of things I did differently vocally on that song. I used a lower register which I have never done before. It is one of my favorites and I hope everyone who hears it likes it.
You have been nominated three times for CMMAs and won the fan voted Saskatchewan Country Music Association Entertainer of the Year award five times. Is it important to bring your music to the US?
Oh yes. Bringing my music to the states has been a goal ever since I started singing. This year we have one US date booked and are working on a bunch more. From social media sites like Twitter and Facebook, I know there is a fan base there. They have been so supportive and I would like to acknowledge that by coming to play for them. I am definitely looking forward to that.
Talk a little bit about your Imagine No Bullying Tour.
Every time you turn on the television in the last few years, there is another tragedy with a youth taking their life as a result of bullying. To me, that is just heart wrenching. I was a victim of bullying when I was younger, but after the school day was done, I was kind of away from it. These days with the internet and texting, kids cannot escape it. We wanted to create awareness and let people know that it exists in their communities. One day I will have kids in school and we just want to do our part to make the world a better place, especially for the youth. We plan to continue this tour for the next three to five years.
What are your plans for 2014?
In February we will do a radio tour across Canada to promote my current single "Someday." Then in March we will release the new album with some interesting things planned in support of that. In April and May we will do the Imagine No Bullying Tour and then start a summer tour. We are very busy, but busy is good.
Is there one country artist male or female you would like to work with?
I got the chance to open for Florida Georgia Line last year when they came to Canada. It was just incredible to watch them do their show, how they interact with the crowd and bring everyone to life. I learned a lot just from that. And other than them, I would love to work with Keith Urban.
What album are you currently listening to?
I listen to a lot of different music, but I really like Keith Urban's new record. I have every other one of his albums. I wasn't quite sure what to expect with this one. It is quite a bit different, with lots of variety, but I definitely recommend it.
For more information visit www.codieprevost.com
Follow Codie on Twitter @codieprevost
Find Codie on Facebook
You can listen to "Someday" below: