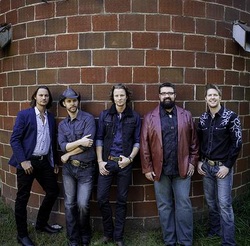 Founded by brothers Chris and Adam Rupp during their college years in the early 2000s, Home Free is an American country vocal acapella group that have been performing for crowds in countless venues across the country for years. They made national attention by competing in and winning Season 4 of the television show The Sing Off. Their victory was the culmination of hard work and commitment to a vocal craft that is growing in popularity. Since winning the competition, Home Free has released an album and started a 32 city tour. Home Free consists of five member: Chris Rupp, Adam Rupp, Tim Faust, Rob Lundquist and Austin Brown. Austin graciously took some time from their busy schedule to call in and chat with us.



Can you tell us a little bit about how Home Free came together?

Chris and Adam are brothers who have a passion for acapella music. They started the group in 2000. About six years ago, they were playing enough shows to make Home Free a full time commitment. About a year and a half ago, I met them on a cruise ship where I was a featured entertainer. Lucky for me a spot opened up in the group. It has been wonderful that I am able to do this full time and I couldn't be happier.

All five of you have been involved in music your whole lives in varied forms. Why did you decide to sing acapella?

That's a great question. Chris and Adam really loved the House Jacks and I started getting into acapella music through Napster and things like that. Growing up, I was always around vocal music, so something like this is second nature to me.

Did the group always sing country? What made you gravitate to this genre?

I myself grew up on a farm and was exposed to a lot of gospel music. We were performing several country songs in our shows, but really started including more when Tim became a member of the group. He has had his own country album and has written a lot of songs. We started doing more country, putting our own style to it and now there's really nothing like this out there. Traditional acapella is loud and fast with crushing vocals. We are relaxed, funny guys who like to break down that fourth wall when performing and really interact and connect with our audience. People have been so receptive, it's wonderful. It's humbling and exciting to create something new like this.

Who are your musical Influences?
We each have our own personal influences. My influences range from gospel music to musical theatre. In country music, we really like the Zac Brown Band and Hunter Hayes. There isn't any one particular artist, it is more about individual songs and how we relate to them.
Congratulations on winning the Sing Off. Can you tell us how you came to be on the show and what was the entire experience like?
Well, we happened to have couple days off in between shows and saw they were having auditions and thought why not give it a shot. We sang a couple of songs, then found out they liked us and asked us to record a few more, so we did. They called back and offered us a spot on the show. Our goal was just simply to get past the first week, so we more than surpassed our expectations.
You just released an album,
Crazy Life
, with songs you performed on the show as well as original material. Talk about that a little bit.
It has songs we did on The Sing Off as well as original songs. We all write to some degree. Jim co-wrote three songs on the album. We want to put our own music on an album to show that we are capable of making our own music. We would love for country radio to give us a chance.
Do you have a favorite song to perform from the album?
Right now it is "Ring of Fire." We performed the song on the show and it is on the album as well with Avi Kaplan. People are screaming for that song before we even perform it.
Home Free has performed all over the country. Now you are currently on a 32 city Sing Off Tour. How is this tour different from what you have previously experienced?
We have had success as a group before, but now the audience knows who we are. It is truly amazing how relevant we are to our audience. When we performed at places before [The Sing Off] people would not know who we were and now we get to go into arenas and people are cheering until we perform and when we are singing. It is a surreal experience. We find people are waiting in line for hours after the show wanting to talk with us. It is a brand new change that we are learning about. We are enjoying it all.
What are your plans for the year?
Well, we are in the studio right working on a video. Then, it will continue to be a very, very full year with a lot of touring.
What are you listening to right now?
The last several months I have been listening to Zac Brown Band's
Uncaged
. In my opinion, it's one of the best country albums of the year.
For more information, including tour dates, visit their official
website
Follow Home Free on
Twitte
r and
Facebook