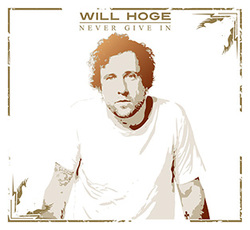 Although many people have gotten to know Will Hoge as one of the writers of Eli Young Band's #1 hit "Even if It Breaks Your Heart," he has been making music for well over a decade. His current single, "Strong," which can be heard in the Chevy ad campaign, is an ode to the hard working man. His honest songs tell stories that can touch the heart and energize the soul. Will graciously took time to speak with us about music, genres and what's ahead for 2014.
Many people are new to you and your music. Can you tell us how you came to pursue music professionally?
I had fully intended to be a history teacher and coach high school basketball until I found out you had to maintain a grade point average to stay in college, which wasn't working out so well. To be a singer songwriter didn't require a college degree or a GPA, so that made the decision a whole lot simpler.
When did you start playing guitar and writing songs?
I didn't play guitar until I was a senior in high school. A guy in my classes wrote out three to four simple chords on a piece pf paper for me. I learned those and started writing songs after that.
You have been making music for about fifteen years, what keeps you going in this business?
I really don't like doing anything else, which sounds like a weird thing to say, but that's a big part of it. At the end of day I love writing songs, making records, creating in the studio, and playing songs for people. There is heartbreak and stress that comes along with the work, but at the end of the day I get excited about the music and that's probably the biggest thing.
Your music combines a lot of genres and cannot really be pigeonholed, so if I had to describe your music to a new listener what would I tell them?
I
don't know and I'm probably a terrible person to ask. I play a mix of everything I listened to growing up which was country, rock, soul, blues and R&B all rolled into one.
My father had a great record collection when I was a kid, so I missed a lot of what my peers were listening to like the hair bands, spandex rock and all of that stuff. Instead, I was listening to the Beatles, The Rolling Stones, James Brown, Hank, Buck, and Merle. All of those people were influences on me growing up.
The country world has opened up to us more, which is a positive thing. We have more of a rock n' roll show than a country show. To me, a straight up country show is someone like George Strait or Dale Watson, someone like that. That isn't completely what we do, although it is a part of what we do. To me though, we are so much more countrier that a lot of what is considered quote unquote country right now and is being played on the radio.
You previously described your sound as "rock n' roll with country soul." Does that still apply?
Yeah, I mean I think so. I think the more records we make it only proves itself more and more true.
Do you think genres are important?
I think any genres are important, but that's sort of a two sided question I guess. As a businessman, yes, but as an artist and even a fan, I don't think anybody really cares. The record labels make it so confusing for people because they keep trying to pigeonhole everything. There was a point when record stores where everywhere and you needed genres because that's how things were organized. If a person came in and wanted an R&B record or an alternative record you pointed them to that section so they could pick out what they wanted. With the ipod and computers and the way we consume music now by downloading it,
labels don't make bit of difference to the consumer anymore. I think if you go to anyone's ipod and scroll through it you will find a rap song or two or a country song or two. You can have a hodge podge of whatever your mood is at the click of a button.
For me, I personally don't like country and rap mixed together. I like rap and I like country and enjoy them separately. I'm not saying it is right or wrong, it's just a difference of opinion. I don't have to listen to those songs and that's the wonderful thing about our ability to buy music at this point,
2013 seems to have been a pretty great year. I know you joke about wining the "Triple Frown" ["Even If It Breaks Your Heart" was nominated for the CMA, ACM and Grammy for Song of the Year and lost], but the success that the song brought must have meant a lot. Was success like that something you strived for or was it more like icing on the cake?
More like icing on the cake. Greater success I wouldn't mind, but is not what I always wanted. I want to be a better singer, songwriter and performer. People ask me what I prefer, to write or perform, but I've never seen a difference. I've always wanted to try and make great records, write great songs and have great shows. Other people recording my songs is a huge, huge form of flattery. I hope it's something that happens a lot more as I'm fortunate to have a lot of songs. One really works to fuel the other. As an artist, the more I get to share stages with other artists, the more they become aware of me and my music and maybe they'll take a look at my songs. And vice versa, if others record my music, radio gets exposed to me as a writer which makes it easier for me to walk into a room, introduce myself and play a couple of songs. People start to recognize me and that makes my job a whole lot easier.
Lady Antebellum has one of your older songs "Better Off Now" [from Blackbird On A Lonely Wire] on their record Golden and you have two tracks on the upcoming Eli Young Band album Dust. Do you approach writing for others differently than writing for yourself?
I have very rarely truly written for someone else. I just try to write a great song and am satisfied if I can write a good song. And from there it just depends where I am in the cycle of making a record. Some songs I will just keep in my headpocket and say this one is totally mine; that of course would change if Kenny Chesney called and said he wanted it
(laughing).
There are certain songs I write that nobody else will ever record, because they are just not going to get played. I am always writing and building albums. I may have three or four songs here and there with a certain theme that would fit together and then I add to it and all of a sudden I have five or six and am ready to make a record. I then try to round it out. It's kind of a constant process, which is fun.
Your current single is "Strong" is a bonus track on your latest album Never Give In, which was released to critical acclaim last October. Was it a last minute decision to put that track on the album?
The whole thing was a last minute decision. I got a call from my cousin, Zach Crowell. He and Ashley Gorley needed help with a song they were working on. They wanted to bring a certain voice to the song. I agreed to help them, having never worked on anything with them previously. We finished it and it came out really good. My record was finished at time, so I thought this was one I'll keep in the pocket for the next record. On Wednesday, their publisher had a meeting with the guys looking for songs for Chevrolet. They heard an acoustic vocal work tape, loved it and wanted to use it in an ad campaign. So by the next Wednesday we finished the song and video. One of the really great things about being the owner of record label is that I can easily make a call and get it added as a bonus track on record which I did. It really rounded out album in a nice way. It was a really cool thing to be a part of.
Is there any particular song on record that you are partial to or is it like having children where you love them all equally?
I think it's closer to that. There are things you love about all of them so it's tough. There tends to be really personal things involved in each one. I'd be hard pressed to pick any one out in particular. They all feel special to me.
In 2013, you had your first #1 on the Texas charts with "Another Song Nobody Will Hear" with Wade Bowen.Talk about that and the Texas music scene.
There's a great station in Texas, KNBT, with a great DJ and program director, Mattson Rainer. He started playing stuff off of
Draw The Curtains
years ago that had us starting to build a fan base around Dallas and Austin. We got embraced real early down there along with Wade, Randy Rogers and Jack Ingram. My manager is from Texas and starting with
Number Seven,
we had a meeting where I said I wanted to approach Texas like it was another country, like England or Spain. They had enough places to play as well as their own radio scene and I really wanted to see what we could do there. They have welcomed us with open arms and been really kind to us. There's still a lot of work to be done there, but it's such a cool thing to be a part of. Texas is a really important place for us.
Texas has the red dirt music scene and those guys can really make a handsome living playing beer joints and dance halls in Texas. It's a really unique thing that used to be more nationwide where you could go and spend $10 just to drink beer and hear a band and discover something new. Some of that's been lost nationwide; the younger generation isn't as hip to that as they were ten years ago. But in some ways I don't think Texas has ever lost that.
You have toured with artists from ZZ Top to Dierks Bentley to Shinedown in venues of various sizes. Do you have any favorite tours and do you prefer large or small venues?
As an opener, size of the venue really doesn't matter. It's our dream to be able to play 3000-5000 seat theaters. I think that's where we are really at our best. We can be as loud as we want to and as rockin' as we want to. That's where I would want to end up.
We have been incredibly lucky with touring, from the people you mentioned to everyone else we have been out with. We learn so much from being out on the road. The tour with Shinedown was an acoustic one and those guys are fantastic. They treat everyone with such respect, from the fans, to the people who work the venue, to their tour guys. They were a real inspiration every single night. And then Dierks, on a larger level too. He was just so good to his people and to us.
Last year you headlined the Never Give In Tour. What are your touring plans for 2014?
We will headline quite a bit for the first part of the year. Then in the summer, there are the fairs and festivals, which I get excited about because we get to see other bands that we are fans of and friends with. Then in the fall, we are hoping to pair up with someone. We have some things kicking around that I can't divulge yet.
Is there one thing you want to accomplish professionally in 2014?
I'm really excited about the continued trajectory we have been on. The last two to three years especially have been really incredible. Every year I say to myself 'wow this is incredible, I can't imagine what next year could bring' and then it seems like it just continues to go forward a little bit. So I hope that continues. I hope the songs keep coming, people keep coming to see shows and I hope to keep doing this for a living.
What are you listening to now?
I really love the two Jake Bugg records. It's good to see someone young that's really, I feel, tipping his cap to the traditional ideal of the singer songwriter, but also has a completely unique, fresh twist on it. He makes me wanna be nineteen and way cooler than I am.
Watch "Strong" below and make sure to visit
www.willhoge.com
for more information
Follow Will on Twitter
@WillHoge
Find Will
Faceboook
You can purchase
Never Give In
at retailers everyrwhere