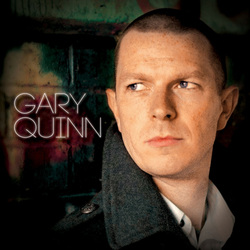 Described as having a cool modern sound with echoes of the past, Gary Quinn is an award winning singer-songwriter that knows how to pull on the heartstrings of his audiences. Creating beautifully crafted lyrics he draws you in with his acoustic driven performances of rock infused country balanced with the traditional. He graciously took some time to "chat" with us via email about his new record, touring and his plans for the year.
Please provide a little background on yourself for those who might not know your music.
I was born and raised in Ireland. I grew up listening to my father's Kris Kristofferson tapes and then fell in love with the new country music coming out of America after hearing the Garth Brooks album
No Fences
in the early 1990's. I recently released my self titled debut album
GARY QUINN
, a 10 track offering of self penned material. My songs can be heard on radio stations in Ireland, the UK, America and Australia.
Being from Ireland, how does one get involved in country music especially as a career? Was it something you grew up with?
Country has quite a strong following in Ireland going back many years. In fact, historians would say the emigrating Irish helped introduce the fiddle to the genre. Its more the older country that people like. 'Country 'n' Irish' has had a strong resurgence in the last 18 months however it's the more contemporary country sound that I follow. I grew up listening to Kris Kristofferson and then Garth Brooks as mentioned above.
Is country the genre you were always drawn to? Who are your musical influences
?
Yeah, as my friends would have followed what was current in the Pop charts, but I was always listening to the latest Garth Brooks record. In Ireland/UK in the early 90's we had access to CMT (which we sadly no longer do) so we could keep up with what was current in the US. I remember seeing a lot of Alan Jackson, Garth Brooks and Joe Diffie. My main influence include Garth Brooks, Kris Kristofferson, Brad Paisley and Keith Urban.
Your songwriting ability has been awarded and recognized on many occasions, do you write your songs yourself and/or co-write?
Yeah I do a lot of writing and all of the songs on the current album are self penned or co-writes. I've been fortunate enough to perform in Nashville on a few occasion and meet some really decent writers so have taken advantage and collaborated with a few people out there. Some of those collaborations are on the current records like "Power of Me and You" with David C Banning (songs cut by Chris Cagle and Joey & Rory) and "A Day I Find Love" with Benita Hill, who has had three songs cut by Garth Brooks. Solo and co-writes both have their merits and I enjoy doing both and hope to continue with both in the future.
How did it come about that you participated in the CMA Songwriters Show with Bob DiPiero?
I've been very fortunate to be invited to play the Belfast Nashville Songwriters Festival (BelNash) in Belfast for the last number of years. Each year they have given me great opportunities. In 2010 I opened for Carlene Carter and in 2012 I opened for the CMA Songwriters Series (that included Bob DiPiero, Bill Anderson and Clint Black). The following year the CMA wanted to be involved again and the BelNash organisers arranged for them to allow a local act to share the stage with them. Thankfully I was chosen to share the stage with Bob DiPiero and Kristian Bush.
It was a brilliant experience and hearing the comments of support have really driven me on to get better as a performer and writer. Hopefully I can get to do it again sometime. I'm a huge admirer of the way Bob writes in particular so a dream would be to do a co-write with him some day!
You were in Nashville in 2012 for the Belfast Nashville Songwriter Showcase. What was that like, have you returned since & do you want to?
Again, I owe a lot of gratitude to BelNash for having the faith to invite me, along with four other Irish singer-songwriters, out to organized showcases in Nashville. I got to perform with Pam Rose and Billy Montana ('Suds In The Bucket' – Sara Evans & 'More Than A Memory' – Garth Brooks) which was a great experience. Benita Hill heard me at one of the showcases and we were introduced which led to us writing together. Playing in Nashville was a dream and only further fueled my desire to do it again!
I was selected to represent the UK at the CMA Global Artist Party in June 2012 and performed at The Stage on Broadway. I was the only European representative on the night which was pretty cool. Then, having opened for the CMA Songwriter Series in Belfast in the Feb I got in touch with the CMA to say I was performing in Nashville for the Global Artist Party and they invited me to play the CMA Fest a few days later. Playing both those gigs is something I extremely proud of and hope to replicate in the near future.
You released a new self-titled record recently. Do you have a favorite song from it?
My favorite song on the record to listen to is probably 'Rewind'. It's a very personal and reflective piece for me. I've always been a sucker for a teary ballad and that's what I was going for on this song. I'd love Brad or Keith to take this to another level, I can only dream!
My favorite song to play live is 'I Love To Watch You Leave'. I first performed in Nashville at the Belfast Nashville Songwriter Showcase and the crowd responses to the acoustic version were great, but playing it now with my band is real fun! Fun is an integral part of writing and performing for me and it great to take an audience on a roller coaster journey. I try to do that on the album and playing live.
What has been the highlight of your career so far?
My performance highlight has to be sharing the stage with Bob DiPiero and Kristian Bush in my home country. Now I just need to replicate it Nashville! The career highlight is releasing a self penned album as an indie artist that was fan-funded through PledgeMusic and continues to get positive review from fans and industry insiders alike. It took a long time but I got there and hope the next album won't take as long.
You have been asked to play C2C in March, that must be very thrilling?!
When I got the call I was ecstatic! To be involved in the same festival as some of my musical influences is amazing. I really excited to see Brad Paisley perform live again and Dierks Bentley.
I'm also really proud to be playing both dates too. One will be an acoustic set with my guitarist and buddy Luke Thomas and the other will be with the full band. The Pop-Up Stages are free to everyone on both afternoons which is great for the fans, even those not attending the evening shows.
What are your plans for 2014?
I plan to write more to get material ready for the next album (no plans for release dates yet) and play as often as I can to showcase the current album. I play the BelNash Festival again in early March, then C2C in London the week after. Following that I take the band on the road for a quite a few festival dates through out the spring/summer/autumn with performances in Denmark and a mini acoustic tour of Germany squeezed in between. I'm also performing at One More Shot in Birmingham, UK in November. So I'm planning to be busy.
What are you currently listening to?
The artist I'm currently listening to the most is someone who I feel is delivering the same kind of country that Keith Urban was doing about 3-4 years ago, which is why I'm really liking it. I'm listening to 'Could It Be' and 'Want Me Too' by Charlie Worsham. Garth, Brad and Keith are always on in the back ground too!
For more information visit Gary's
website
Follow him on
Twitter