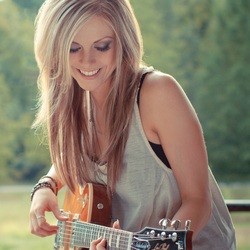 Rising country newcomer Lindsay Ell is definitely one to watch. Her debut single "Trippin' On Us" showcases her singing, songwriting and skills on the guitar. She recently supported The Band Perry on their
We Are Pioneers World Tour
and is currently working on her debut album. Lindsay graciously took the time to call and chat with us about her influences, writing and what's ahead.
You started playing piano at age six and guitar at age eight. Did you know from an early age that music was the path you wanted to take?
You know I really did. My parents are extremely musical and I had music all around me when I was young, which was definitely a nice environment in which to grow up. I knew it was what I wanted to do and that nothing else would top that for me. I loved music and performing so much. I started performing my first shows when I was ten years old. Music was my passion. I won't say I wasn't nervous at times performing that young, but I think it made me stronger to accomplish one challenge and go onto the next one. I just got bit by the bug at an early age and did not want to stop.
You must have a very supportive family
.
One of the most supportive families anyone could ask for! I have the best parents and older brother. From an early age, it really was a big sacrifice for everyone because you had to commit 100% of time and effort to it. Even now, they are just so supportive and I love them to death for it.
When you were younger, you traveled with your Dad to bluegrass camps. Was that the type of music you were exposed to as a child?
I started playing bluegrass music when I was really, really young. Then when I was ten years old I started getting into rock and blues, which opened my mind to another side of guitar playing. It gave me a whole new vocabulary to pull from and I am so thankful for that.
How did you meet Randy Bachman [from Bachman Turner Overdrive] who really took you under his wing and mentored you?
I met him through a songwriting buddy of mine when I was little. He was given a demo of cover songs that I did. When he heard the cd, he said that the person playing sounded like a young Chet Atkins and when he found out I was a girl, he wanted to meet me.
Randy was like another Dad to me growing up. He has been so supportive and a huge mentor. He really taught me how to song write at an early age and gave me my first real experiences recording in a professional studio. He definitely got me off to my start when I was really young.
Did you start singing at an early age as well?
Yes! Ever since I could talk I was singing! I walked, talked and breathed music everywhere I went. I probably annoyed my brother half to death!! When I started playing, singing just went hand in hand with that.
You have such a varied musical background. Why gravitate to the country genre to make your home?
Country is my roots and who I am. I'm originally from Calgary which is a very country music city. I moved to Nashville three and a half years ago. The move really instilled my country roots in me again. It felt like I was coming home and where I'm supposed to be.
I am really grateful to Randy for helping me explore jazz, rock and blues. Now I feel that I can play, write and sing country music and pull from those influences when I'm playing a guitar solo on stage.
You are a singer, songwriter and musician. Do you have different influences on each part of who you are?
Yes, completely different! On the guitar it is Jimi Hendrix, Stevie Ray Vaughn, and Eric Clapton. As a singer, the list includes Aretha Franklin, and Celine Dion. And as for songwriters I am influenced by Joni Mitchell, the Beatles and Don Henley. I have a very wide list of influences.
Such a wide range of influences makes for a unique sound. To me, "Trippin' On Us" is unlike anything else out there. Do you think?
I think so and I really hope so! Being a female in country music right now, you really need to find a unique voice and come out with something people haven't heard before. So I hope that through all of my influences growing up and what I've gone through, I am able to make something unique and fresh that people will hopefully want to listen to.
Congratulations on the success of "Trippin On Us." The song was the most added its first week out which is very impressive for a debut single.
It was a great way to finish the year [2013]! I wrote that song with David [Fanning] and Vicky [McGhee]. David and I were jamming on the guitar riff for a little while and then we just sort of fell into the verse and three hours later, the song just miraculously turned up onto the page.
Country Weekly recently included you on their Ones to Watch in 2014 list and CMT named you one of the Next Women of Country, which is defined as "someone who will make a major impact on country music". No pressure, right?
No pressure!! Oh my goodness, when I read that I was like 'oh boy!' I cannot thank them enough for recognizing and featuring me. I'm completely humbled by it and thankful that they are showcasing female artists.
There is a lot of talk about the lack of female presence on country radio. What are your thoughts on that?
I think it is a cycle. It always baffles me that there aren't more females on the radio and more specifically, female guitar players. I definitely think it's a good time for females to showcase what we're doing and to give fans a new message they can latch onto. I hope that I can come out with something they haven't heard before and be an inspiration to young females.
You recently toured with The Band Perry on their We Are Pioneers World Tour. How was that experience?
That tour was truly amazing. It was my first time in Europe. We performed twenty shows in nine countries under thirty days. It was a whirlwind, but so amazing. I cannot wait to be able to, hopefully, play more shows with them in future.
You have toured with Keith Urban and Buddy Guy. Is there someone who you want to play with that you haven't?
When I saw Keith Urban and John Mayer do
Crossroads
it sort of instilled a little fire in me. John Mayer has been a huge inspiration to me. To be on stage with the two of them would be incredible. Of course I would love to do something with Eric Clapton or Eric Church too. I have long list, I'm not asking for much!
(laughing)
Will there be an album in 2014 and how involved are you with writing for it? Will you be playing guitar on it?
Yes, there will be an album! We are hopping into the studio right after the ACM Awards and we will be finishing the record, but there is no official release date yet.
I am very involved in writing for the album. I have written or co-written all of the tracks so far. I probably will have a couple of outside songs from my favorite writers, but I'll write 80% of it.
I am playing on the record! Thankfully the producers have embraced me as a guitar player and they really allowed me to do my thing and play all my own guitar solos.
When you write do melody or lyrics come first or does it vary?
Well, I always say it depends because every writing session is different. Generally, I am a more musically driven person so a song will usually start with a guitar lick or a melody and then the rest of the idea will come.
What are you touring plans for the year?
In the Summer we will do radio tours and festivals. I will also have a few shows during CMA Fest. I cannot wait to get back on the road again. It is my happy place.
I am a Facebook fanatic! I am on Facebook, Twitter and Instagram two to three hours a day responding to fans. I love having that one on one connection with them! I will post all show details on there when they are announced! People can keep in touch with me there as well.
What is the one album currently, that you have on repeat?
You know, I'm a huge fan of Dierks Bentley's new album
Riser
. I just got it and love it! I like how he is constantly reinventing himself. I've been rocking out to that.
For more information visit Lindsay's
official website
Follow her on
Twitter
Find her on
Facebook
and
Instagram