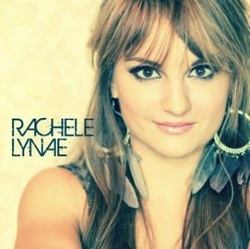 Rachele Lynae knew from an early age that she was going to be a country music singer. Originally from Alaska, Rachele moved to Nashville and graduated from Belmont University. Over the past few years, she has been winning country fans with her high energy shows and relatable lyrics. On April 28th, Rachele released her self titled album on Momentum Label Group. She graciously took the time to talk with us about the record, songwriting and more.
Before we talk about the record can you tell us how you arrived in Nashville from Alaska?
I have always loved country music and always wanted to be a country music singer. From early on, I knew that Nashville was where I was going to end up. I am originally from Alaska, but my family moved to Washington [state] for junior high. One of my friends who had heard some recordings that I did when I was ten told me about Belmont University. I thought attending Belmont would be a fantastic opportunity to not only finish school, but to be in Nashville around the music.
You write, sing and play guitar. Do you have specific influences for each?
I have many different influences, so I cannot say there is just one artist ever in any of those aspects. I think having influences is not even a conscious decision. When I hear something that affects me, I think I just gravitate to it in my own music.
Congratulations on the release of your debut album, Rachele Lynae, which was released on April 28th. You co-wrote/wrote all the tracks on the album. Was writing for the album important to you?
It was. It's really important to me that I can relate to the songs that I sing. Honestly, all of the stories in the songs were inspired by different things in my life. You know, life is not one color. It involves so many things; from family to falling in love and heartbreak to going out on a Friday night. I think it is really important to write about different aspects in your life and be honest about them. I am really glad that the album is so diverse; it's not just one theme, it's life.
However, I'm not closed off to recording other people's songs. There are amazing songwriters and songs out there and if I found a song that touched me, I would think about recording it.
What inspired the song "Two For One Special?"
That one is a funny story from a few years ago. A friend and I started dating new guys at the same time. As we were telling each other about them, we ended up discovering they had the same first and middle name. We were like "wait, what?" It was one of those "oh my goodness are we dating the same guy moments!" We ended up finding out that it was just a weird coincidence, thankfully. Then we started joking around about what women might do if they found out they were dating the same guy. Of course no one is going to tattoo something on a guy's forehead
(laughing);
the song is just a fantasy.
Do you have a personal favorite from the album or is it hard to choose since you were involved in writing them all?
Honestly, I can say I don't have a favorite. My live shows are known to be high energy and full of the up-tempo songs, so I am really hoping that people who bought the record really take the time to listen to the heavier songs like "Clean," and "Words in Red." I'm excited for them to sit down with the lyrics to those songs, digest them and learn about my roots.
Your record was the first to be released on Jamie O'Neal's Momentum Label Group. How did that come about?
I met Jamie through her dad, Jimmy Murphy, who I met briefly when I was thirteen. Jimmy and I loosely kept in touch, but after I graduated college I met with him to talk about my future. We found out a lot of our philosophies relating to country music were similar. I asked him to take a listen to the EP that I made in college. I told him that I would welcome constructive criticism because I just wanted to get better. Well, he called me in about ten minutes; he really liked it! He shared it with Jamie, and set up a meeting with her. I was extremely nervous about meeting her because she was an idol of mine, but she welcomed me with a big hug, and we immediately clicked. First, we worked on a demo, then she approached me about being on the label. Working with her has been both fun and a learning experience. She pushes me in the studio to do what I don't think I can do. She is really supportive and encouraging.
What are your plans to support the record?
Well, we are working on picking a single. There are a lot of strong songs on the record, but we want to make sure we pick the one that will hopefully be the breakthrough single. Then we will be out there playing shows and continuing to spread the word.
Renegade Radio Nashville and The Highway have been big supporters of yours
.
Talk about that a little bit.
Yes, they have! [Sirius XM] The Highway is really great at finding new music and getting it out there to the listeners. Captain Jack has been a huge supporter from day one, which has been amazing. I think Renegade Radio's listeners want to hear something different when they turn on the radio. I appreciate both of their support so much.
What are you listening to now?
In my car right now I have Jason Aldean, Taylor Swift, and my record before it was finalized because I was trying to make sure it was prefect before we sent it out. I love to listen to Sara Bareilles when I need to stimulate the songwriting juices. She's an incredible songwriter.
Watch "Fishin' For Something" below
For more information visit her
official website
Find Rachele on
Facebook
Follow her on
Twitter