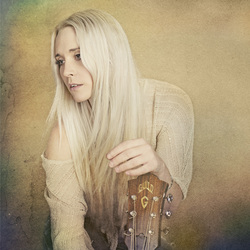 Australian songstress Aleyce Simmonds is a 4 time Golden Guitar nominee whose most recent album,
Believe
, debuted at #7 on the Australian Country Charts. The album, personal and heartfelt, has produced the hit singles "Believe" and "Stronger." Aleyce graciously took some time to talk with us via email about honesty in her songwriting, the album and more.
Your music is well known in Australia, but for newer audiences, tell us a little bit about yourself.
I am a country singer/songwriter from Australia; originally from Tamworth, Australia's Country Music Capital. I've been singing since I could walk, and have been playing music professionally now for ten years.
What made you decide to pursue music professionally?
I won a competition called the Telstra Road to Tamworth in 2004. Part of the prize was to go to Nashville to record and play at the CMA fest at the Riverstage and at the Global Artist Showcase. I got a taste for the Industry and fell in love with it.....that was ten years ago!
What made you gravitate to country music?
I LOVE country music so, so much. It evokes so much emotion; it is the music of the people, especially here in Australia. Our singer/songwriters are like story tellers; telling the stories of people's experiences and life in general, as well as our beautiful Country and landscape.
Your music merges pop and country well. Who are your musical influences?
Thank you very much! My influences are Emmylou Harris, Shania Twain, an Australian legend, John Farnham, and Keith Urban; really there are too many to mention!!
Your latest album Believe was released in September 2013. Talk about the album a little bit including how personal the songs are to you.
The album is really personal. I write most of my songs in the first person so the inspiration generally comes from experiences I have had or the experiences of those close to me. The songs that are particularly special to me on this album are "Believe," "Stronger" and "Stay Gone." They represent getting through some really rough situations health and relationship wise and then getting to the other side and realizing we're stronger for these times. "Joshua" is also special to me. It's a song about my baby brother who would be 20 years old if God didn't take him far too early.
Your website quotes: "But singer-songwriters have it even tougher - they must not only face their demons, but parade them for all the world to see." How do you approach songwriting and is it something you enjoy knowing you are putting your emotions and experiences out there in public view?
I sometimes think that I'm not brave enough to write the songs that I do because it is really, really scary putting raw emotion out there for the world to listen to, and like or dislike. It's not really something I enjoy at all but I guess I don't know any different. Music is the most honest thing there is to me. I figure that if I am experiencing something, I should put it in a song because chances are, there are millions of others going through the same thing and hopefully the music will help them through.
Do you write alone or with co-writers?
Both. I have been doing a lot more writing on my own lately and wrote most of
Believe
on my own. It's interesting how the cycle works.....sometimes I think you need to be really comfortable in your own skin and experienced in 'life' to write on your own. Then, there are also sometimes when I'm most vulnerable and 'weak' that I sit down to write on my own. It's like therapy.
You have had much success in Australia. Do you want to bring your music to the States?
I would LOVE to go back to the states and plan to this year. My partner, Lachlan Bryan won a golden guitar in Tamworth this year which is our highest accolade over here. He's heading over with his band in September and I hope not to be too far behind. I'm touring the UK in September, so you never know, I may get the travel bug and just keep going!!!
What has been the highlight of your career so far?
Being nominated for 4 Golden Guitars has been pretty special. Each time is just as exciting as the first. We don't make music to win awards but when the music is acknowledged as being in the best released in the year, it sure is a beautiful feeling.
What do you want to accomplish in the remainder of 2014?
I hope for a successful UK tour!! I've just wrapped up my band tour here in Australia and will re-commence that in October when I get home; so I can't wait for that to begin again! I've almost written a new album too, so hopefully I'll hit the studio before 2014 is out.
Finally, is there one recent record you cannot stop listening to?
Oh, so many. I LOVE Leann Rimes
Spitfire
album.....can't get enough. Also, my friend Amber Lawrence is about to release an album over here (her fourth) and it's amazing. It hasn't left my CD player since she gave me an advance copy.
For more information visit her
official website
Find Aleyce on
Facebook
Follow her on
Twitter
Watch "Believe" below.