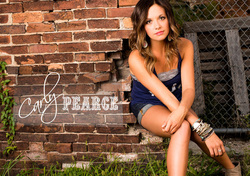 Carly Pearce was born in eastern Kentucky into a family with bluegrass roots and a deep love of music. When she was eleven, she fronted a bluegrass band and sang at churches and festivals. At the age of sixteen she moved to Pigeon Forge, TN to pursue a career in music. Carly took the time to chat with us about her journey, her music and what's to come.
When you were sixteen you and your mom moved from Kentucky to Pigeon Forge. Talk about your time there and why you chose to go there as opposed to Nashville.
I was singing a lot of bluegrass and I wanted to challenge myself to not just stand behind one microphone; I wanted to grow into myself as a true entertainer. I auditioned to perform at Dollywood, and when I got a part, my mom and I moved there. I finished high school in between performing six shows a day, with only one day off a month. I spent one year at Dollywood and another at a theatre called Country Tonight. I loved it there and it was really hard to leave.
My time performing in Pigeon Forge was equivalent to going to college before coming to my final stop, which I always knew would be Nashville.
When did you eventually move to Nashville?
In 2009, when I was nineteen, I moved to Nashville. I got very lucky because early on, I met a songwriter through My Space and he helped me immensely by introducing me to Universal Music Publishing.
Do you think things have been moving quickly for you since arriving in Nashville?
Well, it's a ten year town, which I never believed until I got here. There's a reason why thousands of people move here and only a few make it. It's hard at times because opportunities sometimes fall through, but I believe that things happen for a reason. I think I'm in a great place right now with my music and with who I want to be as an artist.
Do you think it is harder being a female in the industry?
I don't know if it's harder, but there is a really big gap in our market for females at the moment. However, I wouldn't want to be a male right now because you can get lost in the shuffle. I try to focus on the music, and not gender, and hope people want to hear what I have to say.
Are you planning on releasing music soon?
I plan to release a new EP of five songs in September. I wrote the songs over the past year and they really reflect what was going on in my life. My sound has become more mature and more focused. I am twenty four years old, not married and without kids. However, I am not a huge partier, but I'm not a saint either. I feel like my music will speak to the young people who are trying to figure it all out.
With this EP, I feel like I have something that represents who I am and I am really proud of how it turned out.
You were a part of the Country Throwdown Tour in 2012. Was that your first major tour?
It was my first time on a major tour and it was amazing! I was out with Florida Georgia Line and it has been just incredible to see how far they have come in a few years.
It was so much fun to play for the crowds, meet people and make friends, but also I learned so much. I hated when it was over!
Do you have any plans to tour this year?
I play a lot in Nashville at singer songwriter venues, like the Listening Room. I am expanding my abilities and am going to be singing back up on a few upcoming performances with Lucy Hale.
What are you currently listening to?
My iPod has such a variety of music on it. I listen to everything from Keith Urban and Fleetwood Mac to Alison Krauss to Patsy Cline and Nickel Creek.
For more information visit Carly's
official website
Find her on
Facebook
Follow her on
Twitter