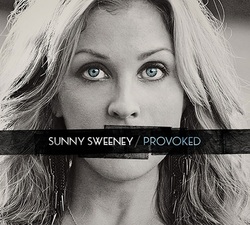 Sunny Sweeney has never shied away from incorporating personal stories in her music. Her first two albums
Heartbreaker's Hall of Fame
and
Concrete
contain songs that are earnest, sassy, humorous and vulnerable. Sunny returns on August 5th with her third, and very honest, album
Provoked
. She graciously took the time to chat with us about the album and playing with one of her heroes.
Before we dive into the record, a few weeks ago you got to play a show with one of your heroes, Merle Haggard. That must have been incredibly exciting.
Oh my gosh, I'm still on a complete high from that!! I have been doing this [music] for over a decade and have met him a couple times, but I have never gotten to play a show with him. The whole time I was there I was thinking how crazy great it was! That was a bucket list item for me, so I crossed that off of the list and moved another item up there!
On August 5th, your album 'Provoked' will be released. You started work on the album last summer. Do you feel like it has been a long process?
It feels like that, but it also feels like "wow, I started this last July and it's finally here." A whole year has gone by, but the end product is
exactly
what I want it to be. I absolutely cannot wait for fans to get it because, and I know this sounds cliché, but I mean it when I say that I am really, truly so proud of this record.
The record, which surpassed its initial goal, was funded via Pledge Music. What made you decide to take this route?
I had some friends who had made a record this way and they had told me that their fans really enjoyed being involved in the process. I have found that too. My fans have come up to me and thanked me for letting them be involved in making the record. I am thanking them right back because without them, there would be no record! I did specific things on the album because they were a part of it. I know my fans and what they want and they know me. It is such a camaraderie and was such a cool way to go.
You are releasing the record in conjunction with Thirty Tigers who are known to give artists a great deal of control.
I looked to see what I wanted to do with the record and as soon as I met with the people at Thirty Tigers I knew that working with them was exactly what I needed. They lean on the artist to be an artist, and for me, that is an
amazing
thing. Their creative department, along with Kim Buie, is just the best. We had a really great working relationship.
Many artists say their latest record is their most personal, but this really seems to be true with 'Provoked
.'
You know, I have been through a lot in the last couple of years and I am not one to hold back. If there is something that happens to me or a friend, I think that it is a gift to be able to write that particular story. If the experience brings out emotions in me, I presume it would bring out emotions in other people, and I feel led to write about it.
There are thirteen songs on the album and I co-wrote eleven of them. Out of those eleven, seven or eight are all extremely personal stories. I have performed some of them at shows and the fans have been very receptive. That's what it boils down to for me; all I want to do is make music and have people respond to it whether it makes them dance, cry, call their parents, mend a relationship or move on….whatever emotion it may be.
So is there one song on the record that you would say is the most personal?
"Uninvited" is really personal. I will never ever tell anyone what it's about, but it is something that happened, and it sucked when it happened, but it was a very big learning experience for me.
I wrote it with my good friend Natalie Hemby one rainy day in a cabin in the country. Natalie is my saving grace and just so easy to open up to when we are writing. I am incredibly proud of that song.
The first single from the album, "Bad Girl Phase," is such a spunky, sassy song that people love.
Thank you! I didn't write it [the song was penned by Jessie Jo Dillon, Shannon Wright and Brandy Clark], but when I heard it, I knew I wanted that song! I wanted a sassy, get up and move song because I didn't have one for the album that I had written. I'm always about the song; the best song should win all the time. I didn't just want some filler song on the record because I wrote it. Finding this song was exactly a "right place, right time" moment.
Rolling Stone previewed another track on the album, "My Bed," which is just so moving.
That song is one of the more personal songs on the record. It is about the end of a relationship, which I think everyone has been through in some way, shape or form. A break up is never easy and not something people want to talk about, or have the person's name brought up or see their picture, at least I don't. If I end something, it's over and I think that you just have to grab yourself by the bootstraps, be an adult and move on.
I have Will Hoge, whom I freaking love, singing on the track with me. I have Will on a very high pedestal. He is just so brilliant and super cool and really, one of most talented people in industry. I asked him if he would want to sing this really country song about a break up with me for the album and when he said he would love to, I was just so happy! His voice, which is so real and raw, adds such a cool edge to the song.
What is the meaning behind the title of the album?
There are a few interpretations for
Provoked
. Sometimes, women say things about one another, do things to one another, and have catfights. Then there is the relationship angle where people get close, but start drifting apart and picking fights and provoking a situation. Finally, there is the overall viewpoint of being provoked or provoking others, which many of the songs on the record encompass. I think too, it is just a cool one word title, and the artwork solidified that for me.
The album artwork turned out incredibly cool. Who designed it and what is the significance of the tape covering your mouth?
We always do everything in Nashville, but I live in Austin and am friends with the Dodd sisters [from Backstage Design Studios] who are just two of the most genuinely creative and talented people I know. [They won the Best Recording Package Grammy this year for their work on Reckless Kelly's
Long Night Moon
]. I wanted to see what they could do with the artwork and they nailed it! The cover with the tape over my mouth is kind of like saying, "don't test me." When I look at the cover, I think "that's it right there!"
Finally, is there one record that you cannot stop listening to?
Jason Isbell's
Southeastern
. I'm obsessed with that album! I have heard it hundreds of times and still cannot stop listening to it. It's one of those records where every single song is
so
good. I will listen to one song and think "man it can't get better than this" and then the next song comes on! He is just so insanely talented.
For more information visit Sunny's
official website
Follow her on
Twitter
Find her on
Facebook
and
Instagram
Pre-order 'Provoked'
here