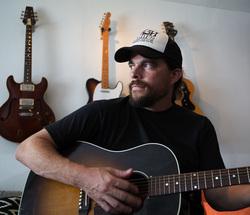 "I am a songwriter, singer and player. My main instrument is the acoustic guitar, a Gibson J-45. I call her The Workhorse and she earns every inch of that name. I love to write songs, but there's nothing better than playing music for folks, it's what got me here and what keeps me going."

Music is inside of Shawn Nelson. The singer songwriter, who has been writing songs and making albums for over twelve years, released his latest project, The Devil's River, in early 2015. His passion for his craft is clearly evident when he speaks and Nelson was gracious enough to take the time to talk about his roots, the album and more.


You are have been making music independently for twelve years. For someone to do it that long it must really be a passion. Was music always "it" for you?

I was raised in Houston in a big Lebanese family and I started playing music when I was seven. I played trombone all the way up until high school when I wanted to play football….and not wear a funny hat anymore (laughing). I picked up the guitar in college at UT and taught myself. Then I worked in Nashville on the publishing side of the business. It was there I realized I wanted to be on the writing side, not the business side. I moved to Austin in 2001 to pursue music and have been here ever since. I came to Austin specifically to be able to write, make records, perform and be around really good musicians. All of those things came true. There are a lot of people who get jaded in Austin, myself included, but when you go out on the road and see other towns with only one or two venues to play at, you realize how great of a place Austin is.

Music is something inside of me. My wife tells me all the time to get more shows because when there is a lull in the calendar I get into a terrible mood. Sometimes you don't have a choice of what makes you happy, you know? It's definitely a challenge and a labor of love, but when you get to work with the really great musicians and talented people it's worth it. It's one of those things that I can't stop. I'm just an artist making music that I hope people will like. I hope to continue to do it and keep moving forward.

You really are an independent artist in every sense of the word.

I even wrote my own bio! I did a record in 2011 called San Juan Street where I paid for a publicist; I got good reviews out of it, but you need 10K a month to pay a publicist and a radio promoter to get stuff out. Frankly, I don't have money to do that. So I'm trying to do it by word of mouth and go back to the people who reviewed past records for me and see if they'll review the new one. I just focus on what I do, which is play songs, write songs and make records.

Music is a lot of fun and it's very rewarding, especially when people come up to you and thank you for playing a song or tell you what a song means to them. It's very fulfilling and it gets better every year. I am now a part time day job guy, so that in itself is an accomplishment. I have a really great wife and a three year old son who are so supportive of all of this. This musician life benefits them too. It gets them to experience things we would otherwise never be involved in, like going to festivals, hanging out with musicians and other creative people. It's very rewarding, but it comes with challenges and you have to stay positive.

To me, you mix some Country, Americana and even Mexican music into your style. Do you have anyone that is either an influence on you and your music or someone that you admire as an artist?
The influence question is a tough one because it is ever evolving. I can tell you that Robert Earl Keen was the first songwriter that I saw live that really influenced me to pick up the guitar, write a song and play a show. But musically, I am all over the map. My earliest influence is Elvis, I remember dancing around when I was a kid trying to be Elvis. I am sure my parents got some good laughs out of that! Outside of Elvis and country music, I loved brass bands and that New Orleans sound.
My parents took me to New Orleans a bunch when I was a kid and I couldn't get enough of the horns--which led me to play the trombone. Years later in my late 20's, I was standing at a late night JazzFest show at Tipitina's and it was at that moment I decided I was really going to try to be a performing musician. I got home and started my first band, Frontage Road. Listen to
"Yea Ya Right"
from
Enough
on my website, it tells that story.
I love Bob Marley as much as Willie Nelson and I could not live without my Bob Dylan collection, he is probably my all-time favorite because of his longevity, his relevance, his influence and his drive. He really is an amazingly driven dude to still wanna be Bob Dylan out there on the stage. I also love The Grateful Dead for many of the same reasons. The Dead was great at telling a story rich in historical references, yet modern. I love those songs.
As I began writing and playing more, I sought out different songwriters, bands and books.
Townes Van Zandt was and is a big one for me. I continue to study Townes, but I wish there was more. There is a lesson in that too. I met Guy Clark one night in Nashville when I was 22 and he told me to study Townes and I'd be all right - I took it to heart and haven't look back. I also love Waylon Jennings, I have learned a lot in regards to performing, style and intent with Waylon. We lost him too soon.
I was born on Sept 12, that's the day that George Jones was born and Johnny Cash died. I love Johnny Cash, his music speaks to me. My Lebanese grandmother is the one who introduced me to him, that's the power of his music, it transcends. I think that's what all musicians really shoot for and he really nailed it.
As far as the Mexican thing goes, I am a Texan and it's hard to deny that influence. Those melodies and instruments are all around us down here and it ends up in our music either consciously or unconsciously. I worked with one of the greatest accordion players in the world on
San Juan Street
, Joel Guzman. Joel produced, engineered and played on the album. It was a great experience and he really helped me to not care about the stew, just make it good.
You recently released your sixth album, The Devil's River. Has your sound changed over the past twelve years?
It has definitely changed and evolved, but I'm always staying with the twang. For this record, I compiled the songs that I have been playing for a while, yet never recorded. They are the songs I knew people liked too, like "Tighten Up." Whereas some of my other records had a split personality with country and rock and roll, this one is more of a consistent country album. I have always battled with what box to put myself in and with the rise of Americana that's where I feel at home. It's more forgiving, you can do pretty much anything that's roots based and that is where I write from these days.
Where do you draw from when you write? Is it from personal experience, friends, observations or a combination?
That's a good question. There are definitely some love songs on
The Devil's River
which pull from the personal, but the title track I wrote with a buddy of mine. We were travelling back from this cowboy town, Bandera, and he was telling me this crazy story he made up and I was like "that's a great idea for a song!" I feel that whenever inspiration strikes you have to grab it. I learned from a songwriter in Nashville to write what you know. I try to be honest in my songwriting with the stories and characters. There's a song on
San Juan Street,
"Anna Lee," that's about Hurricane Katrina. I didn't live through it personally, but it affected me and I wanted to capture parts of that story that weren't on the news. I try to make sure the listener knows that I'm not trying to pull the wool over their eyes. I'm not like the inquisitive, witty songwriter; that's not in my character. I'm a pretty straight forward dude who tries to keep peace and light in my heart.
With all of the song titles to choose from, why name the project The Devils River?
Naming albums is a really hard thing to do, I can barely name songs much less an album
(laughing).
I chose
The Devil's River
because of the imagery of it and because it was the song that kick started the whole project. It's probably the song people ask for the most. Even if I sit in with someone like Graham [Wilkinson] or Hayes [Carll], they ask me to play that song.
Is there any particular song on the project that is a favorite for you?
Choosing a favorite is like trying to decide between children. I really like "Old Time Gal," but I like them all for different reasons. The most personal is "One Foot in The Grave." I met this guy at the Continental Club in Austin and we were chatting for a while. Afterwards, Graham tells me that the guy has terminal cancer and isn't doing anything to treat it; he just wants to live out the rest of his life with his wife and be happy. I found that really inspiring. Not to say everyone should go that route, but I think about how I would deal with impending death, something which we are all gonna have to face. The song is about knowing we're all going to die and so we shouldn't live like we have one foot in grave, we should live and take it all in. It's the way I try to live my life. That song, as opposed to the others on the record which have five or six, only has four people playing on it. I think it came out really cool. It hasn't been the one people tell me they like as much though, so you never really know. One other song I love to play at every show is "Medina." I feel like if this was 1988 and George Strait heard the song maybe he would record it. It has accordion and a real country feel to it; a real south Texas vibe that I dig.
Besides the title track, another song fans love is "Barton Springs" which is weird to me. It's the last song on the album and has a Native American tribal feel to it, but it's a love song about realizing we're in this together and staying together.
Once again you produced the record with Patrick Herzfeld. How did the two of you meet?
I have worked with Patrick since San Juan Street and that was released in 2011, so we have been playing and creating together for 4-5 years. I met Patrick through Graham Wilkinson and when he stopped playing with Graham, we started playing together. Now Graham and I are in a band together called 2Fer1 and guess who's the drummer.....Patrick.
Patrick played on San Juan Street and when it was time to cut the EP Enough with The Good Buds, Patrick assumed the producer role during that recording process. Patrick is also a very talented audio engineer, so he is the complete package in the studio. He opened his new studio, Signal Hill, last year and when it was time for me to cut The Devils River, Patrick was my first choice because he knows me, my music and we work very well together. We basically just called all our friends to help out on the album and just hit record, it was an easy and fun process. We took a less is more approach to this record, but I still think it packs a punch.
Where can people catch you live? Do you mainly play in Austin?
Yes, mainly in Austin. I play acoustic in Austin about three to four times per week because Austin has so many places to play and people really do want to come out during the week to hear live music.
I also play in Houston, Dallas and the Hill Country. I recently booked some festivals, one in Colorado and one in Corpus. Sometimes it is hard to make things work, so when I do go out I am smarter about it, like deciding whether to take a band versus just going out myself. I have no burning desire to be out on the road for two months; I do five to ten day runs.
I recently teamed up with my friend Graham and we went up to Memphis to Sun Studio with a bass player and a drummer to record our 2fer1 duo project. Along the way I'll do more shows with him.
For more information visit his
official website
Find him on
Facebook
Follow him on
Twitter
Purchase
The Devil's River
& more of Shawn's music
here