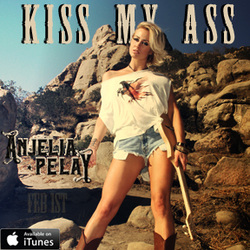 Originally from New Jersey, the now California based Anjelia Pelay is preparing to release a new EP,
The Heart Decides.
The EP,
produced by Brian Blake, features six original songs including the lead single from the project, "Kiss My Ass," which was co-written by Pelay.
On "Kiss My Ass," Pelay blends country, pop and southern rock into a single with serious grit and attitude. Pelay's vocals on the verses convey a woman wronged and angry
"fool me once, fool me twice,"
but when she sings the chorus
"you're gonna miss every part of me/kiss my ass good- bye"
her vocals convey a different woman-one content with her decision to move on because she values herself and deserves better.
"Now I know how love should never feel
How toxic lust cannot be real
When it's right the truth will be revealed
Have fun sleeping with your lies"
"Kiss My Ass" will be released February 1st, an important date for Anjelia as it is the date of her father's (who was her muse) passing from cancer.
Pelay is an actress, singer/songwriter, dancer, multi-instrumentalist (she plays piano, auto-harp and banjo on the album)....and a definite one to watch.
For more information visit her official website
anjeliapelay.com