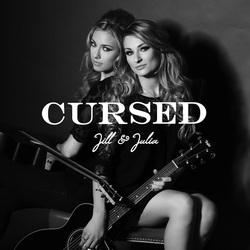 Jill & Julia have had a year of highlights in their musical journey since signing with Lamon Records-Nashville in October 2013. This past year they performed at CMA Fest, performed on the PBS special "Back Yard Sessions" as well as the Route 91 Harvest Festival and hosted ZUUS Country's "Country on the Rise." In addition, they released their debut EP and single "Wildfire' in March of 2014. Now the duo is prepping to release their new single, "Cursed."
"Cursed" may be the title of the new single, but it can best describe the overall tone of the song as well, which tells the story of a woman wronged by a lover and preparing to call him out on it.
The melodies plucked out by the banjo are dark and ominous while the ladies' harmonies give you a sense of disquiet. Mixing country and rock in a way that brings to mind Eric Church (and that's a compliment), "Cursed" represents a distinctive sound from these ladies, one that I dig and think fans of good music will too.
"He's a wanted man
One who understands
How to get what he wants don't you know
But he sold his soul yeah I'll have you know
His price is higher than any gold"
"Cursed," will be available at online retailers January 19th
For more information visit their
official website