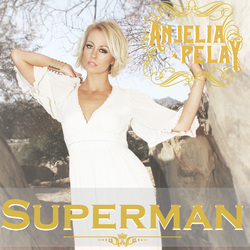 "Superman" is the second single from Anjelia Pelay's upcoming EP
The Heart Decides,
which was recorded at WAX LTD Studios in Los Angeles with producer Brian Blake.
"Superman" is a departure from Pelay's first single "Kiss My Ass," as it showcases a much softer side. The single is a mid-tempo tune about the dissolution of a relationship, remembering the early days when you dreamt of the future together, to growing apart, yet still keeping that person in your heart. Pelay's vocals have a thoughtful, sincere quality that along with the acoustic guitar, banjo and harmonies, convey a fondness for what was, yet a realization that one must move on.
"You were the one
And the only
My light when I fell
To my darkest place
Superman
Always saved me
How could I forget
It was good, it was great, now you're gone"
For more information visit her
official website
"Superman" can be purchased in
iTunes