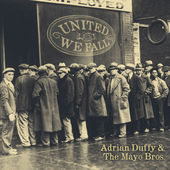 Adrian Duffy and the Mayo Brothers are back with their follow up to their previous EP's
Storm Breaking
and
Someone Like You
. The Pledge funded album,
United We Fall,
was mixed by Matt Kemp (Ry Cooder) and mastered by Denis Blackham (Elvis Costello) and released through their own independent label. The album contains ten tracks all penned by Duffy including "Let Somebody Love You" which was co-written with Martin van Hoof Jenkins. In addition to the lush "Storm Breaking" and the enjoyable "Someone Like You" the album includes the toe tapper "Having It All" (
"I've got more bridges to burn than I'm likely to cross"),
and "Push Those Keys" about balancing caution and living life. The album's scaled back production and stories focus on relationships whether new (the lovely "The Innocence of Love"), letting someone in ("Let Somebody Love You") or experiencing those initial feelings time and time again (the frenetic "Everytime The Love Strikes"). The album closes with personal favorite, "Written In Stone" on which the gentle, peaceful acoustic strumming of the guitar reminds one of the circle of life and not leaving any stone unturned.