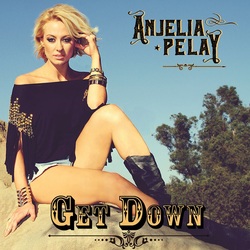 After showing a softer side with her previous single, "Superman," Anjelia Pelay returns with the fun, uptempo "Get Down." The crunch of guitars kicks things off in this tune about a night out on the town, meeting someone special and having a great time. Blending country, southern rock and pop, "Get Down's" chorus is incredibly catchy and the bridge leads into a crowd sing along with some seriously infectious hand claps.
"Tonight is gonna last forever
I hope you like to dance, dance baby
You and me shot of Jack
Let's put the bottle back
Nothing's gonna stop us now"
Listen to "Get Down" and see behind the scenes clips of Anjelia from Stagecoach
here.