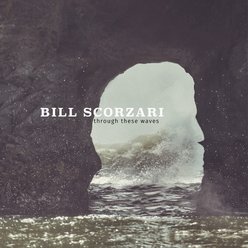 New York native
Bill Scorzari
will release his sophomore album,
Through These Waves
, on March 10th. Produced by Jonah Tolchin the album of all original material contains twelve tracks that wash over you with a wave of tranquility beginning with the opening tune, the sweeping and peaceful "A Dream of You." From there,
Through These Waves
moves to the charming
"A Brand New Deal," a fiddle-filled number about renewing a relationship, "Shelter from the Wind" whose wind and crashing rain transports you to a place of solitude and hope; and the funky affirmation of "
Hound Dog Diggin'."
Kim Richey provides vocal assist on the soul-searcher "Holy Man" while
"She Don't Care About Auld Lang Syne" details the dissolution of a relationship in such a way your heart will hurt. The album is rounded out with songs that are insightful and perceptive: the jaunty "For When I Didn't See", the gentle "I Can Carry This," and the somber "Riptide." An album that is serene, uplifting, and powerful, Through These Waves is a gem waiting to be discovered.