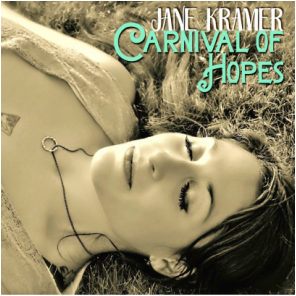 Vocalist and songwriter
Jane Kramer
is set to independently release her second solo album,
Carnival of Hopes
, on February 26th. Produced by Adam Johnson and recorded at Sound Temple Studios in Asheville, the album features Chris Rosser [piano and harmonium], Eliot Wadopian [upright bass] and River Guerguerian [drums and percussion], trio Free Planet Radio, and bluegrass multi-instrumentalists Pace Conner [steel string, high string and baritone guitars, ukulele, mandolin, and backing vocals] and Michael Evers [dobro, banjo, mandolin, and backing vocals] as well as Nick Sanders [fiddle].
Carnival of Hopes
contains ten songs, nine originals as well as Kramer's rootsy rendition of Petty's "Down South," which showcase her ability to write incredibly honest, reflective, emotional (sometimes wrenching) songs that she conveys so stirringly through her delicate, honeyed vocals. The album kicks off with "Half Way Gone," a two steppin' honky-tonk delight (with some snazzy fiddle work) where even though she may not be the typical lady
("I walk like a Clydesdale horse/I cuss and carry on"),
she still wants her man physically and emotionally present. A similar sentiment continues in "Your Ever-Green Heart" which opens with
"Don't you go spending cash or buy me diamonds and gold."
Kramer writes with an awareness of our (female) imperfections; realistically and refreshingly painting us as multi-faceted individuals who make mistakes, experience insecurities, regret and worry. This is particularly evident on album highlight, "Good Woman" where she finds herself kicked out by a lover for the final time truthfully telling him,
"I tried to settle down my soul, but the damn thing just wandered away."
Relationship and internal struggles continue throughout the album including on the somber, impactful title track about a dissolved relationship,
"You found some better arms than mine to call you home at night.",
the horn drenched "Why'd I Do That Blues" and the shuffling "Truck Stop Stars" telling of a woman's journey to find her true self before closing with the optimistic, bluegrass-spiritual "My Dusty Wings."
Like the title implies,
Carnival of Hopes
presents a festival of emotions from a woman who is cognizant of the fact that life isn't all sunshine and rainbows, but one who embraces hope, knowing that through hardship often comes something of beauty.