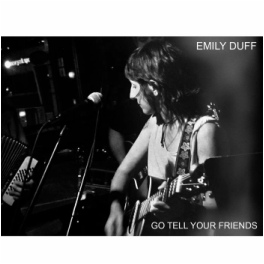 Born and raised in NYC,
Emily Duff
has been called "the perfectly cool combo of Steve Earle meets Patti Smith." In 1996, Duff replaced Jeff Buckley as lead singer of Gary Lucas' Gods & Monsters and then fronted Eudora. In 2015, she released her latest album,
Go Tell Your Friends.
The eight-song collection, all written or co-written by Duff, starts off with the roots rocker title track on which she swears "she's gonna make you happy" and win over his friends who don't believe she's the perfect girl for him. That's followed by the rockabilly tale of the morning after on "Walk of Shame" and the somber "Blind and Numb" on which Duff's vocals are real, raw and impactful. There's an underlying sadness on "Remedy" and a disturbing darkness on "What You Saw," the story of witnessing a child's murder. The album also tells of loss: that of a family member on "Daddy," and of true love on "Bottles and Cans" on which she sings
"Losing true love will surely make a girl think/But it will rarely drive her to put down that drink"
before closing with
the hopeful, tender "Blue Moon Over Grove Street".....
"Don't go hiding under that umbrella of a life not meant to be."
If you're searching for an album of well-crafted, meaningful songs with melodies to match look no further than Duff's latest. And as she says...go tell your friends.
Emily Duff will be suporting Steve Earle and Shawn Colvin at
City Winery NYC
on June 10th. The show is sold out. Add your name to the wait list
here.