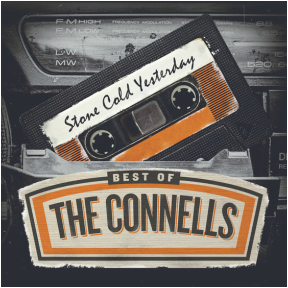 -Tara
In the 1990's the North Carolina-based band
The Connells
experienced international success with their single, "'74-'75", an acoustic ballad from their album
Ring,
which reached #1 in Europe and was certified Gold in Germany, Norway, and Sweden. Now Bicycle Records is set to release
Stone Cold Yesterday: The Best of The Connells,
a sixteen track greatest hits package that will hit shelves September 9th. This best of collection encompasses music from albums released through the years 1987-1998 including
One Simple Word, Ring, Fun & Games, Still Life, Boylan Heights, Weird Food & Devastation and New Boy
where The Connells worked with producers such as Mitch Easter (R.E.M./Let's Active), Hugh Jones (Echo & the Bunnymen) and Lou Giordano (Bob Mould) to Tim Harper (Whiskeytown) and Jim Scott (Wilco).
Incorporating varied genres from roots rock, jangly pop and Celtic sounds ("Scotty's Lament") into their introspective, thoughtful tunes, the Connells today would certainly find a home in Americana. Catchy riffs, earnest vocals and insightful, often moody and sometimes complicated lyrics are at the forefront on tracks including radio hits "Something To Say" and "Stone Cold Yesterday" as well as fan favorites "One Simple Word, "Fun & Games" and "Uninspired."
The album also includes the driving "Slackjawed," the harmony-filled "Carry My Picture," and the insightful "Still Life,"
"Still life has its virtues 'cause everything in motion leaves or its just left behind"
before closing with (one of my personal all-time favorite songs ever) "New Boy" a song where the triad of lyrics, delivery and melody combine perfectly to deliver those all-important emotions.
Stone Cold Yesterday: The Best of The Connells
is a must for any Connell's fan, but will serve as the perfect introduction to a new audience who, after giving it a spin, will quickly become new fans.
Thirty-plus years later, The Connells continue to tour and record. For more information, visit their
official website.