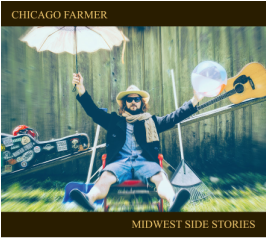 -Tara
Bloomington, Illinois' Cody Diekhoff, otherwise known as
Chicago Farmer,
independently released his 7th album,
Midwest Side Stories
on September 30th. The album, a collection of ten American tales - nine originals and one cover - begins with the sobering "Umbrella" and draws you in with Diekhoff's affecting vocals as well as his thoughtful, and wise story songs from those centered around protest ("Skateboard Song"), factories ("Farms & Factories"), and economic hardship (the heart-wrenching "Rocco N Susie"). While Chicago Farmer's songs have depth, they certainly do not lack in melody and you'll soon find yourself tapping your toe or singing along to "Two Sides of the Story," the delightful "New Used Car," and the relatable, rootsy "9pm to 5."
Midwest Side Stories
closes with Diekhoff's lively rendition of John Hartford's "I'm Still Here" which maintains hope despite the stumbling blocks we encounter in life.
Folk hero Todd Snider has said, "I love Chicago Farmer's singing and playing and songs, but it's the intention behind the whole of his work that moves me to consider him the genuine heir to Arlo Guthrie or Ramblin' Jack Elliott…. Chicago Farmer is my brother; if you like me, you'll love him." If you like well-crafted songs with honesty, insight and melodies a plenty, you'll love
Midwest Side Stories.
Give it a listen.