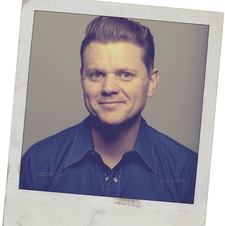 A native of Florida, Jeremy Steding was raised on the sounds of Johnny Cash, Buddy Holly, Dylan, and Prine. While attending the University of Florida, Steding was turned onto Cory Morrow and Robert Earl Keen and eventually moved to Texas spending a decade there, becoming a staple in the Texas/Red Dirt scene. In June '16, Steding relocated to Nashville where he has created his latest album, Odessa (which includes the Top 20 single, "Late Night Love Song"). Prior to heading out on tour, Steding kindly checked in to talk about the release, the stories behind the songs, and more.

With Odessa being your fifth record, did you find yourself doing anything differently this time around?
A little bit. I worked with the same producers, Chris Gill and Gavin Shea [Handmade Productions], but since we moved to Nashville in mid-2016, we recorded the record here - and because of that I was able to get into the studio and have more of a hands-on role with things like mixing and everything else which was really cool.

Were the songs for the album all written after you moved to Nashville or were some ones you had in your pocket?
It's been three years since my last record and in the interim, I probably wrote sixty songs. Eight of the songs on the record are brand new and the others are ones that stuck with me and resonated with people when they heard them live. Those two songs "Get The Hell Off This Rig" and "Odessa" which were songs I had written for the Acoustic Saloon, were written before the move, three more were written soon after, and the final three were written for the album after the Indiegogo was done. I wrote them all myself except for "If It Takes A Lifetime" which I wrote with my good friend, Mike Ethan Messick.

Even though you moved to Nashville, there is a lot of Texas in this record. You mentioned the title track and the closer. Why did you choose to bookend the album with those songs?
For sure. I definitely consider it a Texas Country record as opposed to any type of mainstream country record and by having those songs as bookends, the album begins and ends with a West Texas theme. There's really no place anywhere else like West Texas – it's inspiring and/or depressing - and I took a lot of what I've seen from that culture and put it in the album.

I chose "Odessa" as the starter because I always like to just jump into an album with something up-tempo so the album comes out swinging and then falls into a groove from there. And I closed with "Get Me The Hell Off My Rig" because I wanted to leave it on an almost eerie note.