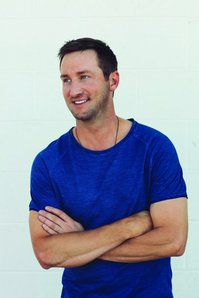 -Tara
Nashville by way of Kansas singer-songwriter Matt Gary has been in Music City for almost a decade dedicating himself to mastering his craft and now is seeing his career reach new heights with his latest single, "Back." Fusing contemporary country sounds with emotional storytelling, "Back" tells of
a man's desire to win back an old flame whom he still longs for.
In the midst of a radio tour, Gary took the time to speak about his roots, the single and its accompanying lyric video, and more.
You grew up playing soccer, but turned to music when an elementary teacher saw something special in you.
I grew up in Kansas, playing competitive soccer and traveling all over, including Europe, which was awesome. In elementary school, I had a teacher who asked my parents who in the family was musical and my mom was like 'What are you talking about?' The teacher said I had a good voice and that's how it all started. I sang in school and at church, then I started writing songs, playing guitar and piano, and taking voice lessons.....and next thing I know, I wanted to be a country artist.
Why did you gravitate to country music? Was it something you were exposed to early on?
Yeah, it was. I love country music – there's something about the authenticity of the stories. My mom loves Dolly Parton, Kenny Rogers, and Martina McBride and whenever I was driving around with her, she had them playing in the car. As I got older I started finding the music I was personally interested in. I remember the first album that really sucked me in was Tracy Lawrence's
Time Marches On
, which I listened to on repeat.