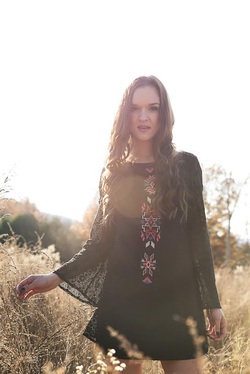 Hannah Bethel grew up on country music and classic rock in Northern Michigan. At fourteen she picked up a guitar and soon after she was traveling and performing original music. Hannah self-released her first record at 17 and the following year she moved to Nashville. Since then she has released three more albums, including her most recent,
Never Ending Sky
. Recently named one of the CMA's 'Who New To Watch in 2014,' Hannah graciously took the time to talk with us about her roots, the album and more.
You are originally from Michigan, but now call Nashville home. When did you start singing and performing?
I have been singing pretty much since I could make noise! I always loved singing and putting on shows for people. I started playing the guitar and writing songs when I was fourteen. My parents bought my middle sister a guitar, I think a Squire acoustic, but she never played it, so I guess I sort of stole it from her and started learning to play. It was more like a toy, but it got the job done
(laughing).
Then I began touring around the northern Midwest and playing original music at fairs, festivals and bars-anywhere they'd have me!
So it seems that you always knew you would pursue music professionally?
In second grade I wanted to be an ice skater for a hot minute even though I am pretty sure I never actually ice skated
(laughing)
! Honestly, I cannot think of a time ever in my life when I didn't want to do music.
Do you have any particular influences either on your singing, playing or songwriting?
Patty Griffin. I love her and think everything she does is brilliant. I have always been a fan, but I go through phases where I'll listen to her non-stop. I'm in one of those phases right now!
I also listened to classic country growing up, especially the female artists, as well as classic rock, like the Eagles, Fleetwood Mac and Tom Petty.
Your fourth record, Never Ending Sky, was released in October of 2014. Talk a little about the album.
I released the album independently and produced it with Brennin Hunt. This album is a bit different from the other three I released, which were more acoustic. In fact, my very first record was just me and a guitar.
Never Ending Sky
has more songs, and more pop sensibilities. There is electric guitar, we experimented with different guitar tones, and we included steel guitar-because you have to have steel guitar in country music! I wanted to create a totally different sound, but still have it feel organic, not over processed or produced.
What does the album title mean?
Thank you for asking that!
Never Ending Sky
is actually a lyric in the song "Tumbleweed." My manager and I were going through the song lyrics to see if we could pull anything from them to use, and those lyrics just made sense. One of the great things about being an independent artist is that I can create exactly what I want. Everything is in my hands and I get to make all of the decisions. The sky was the limit for us with this record, which is why we titled it
Never Ending Sky.
You co-wrote all of the tracks on the album. Is writing something you enjoy?
I started writing pretty much as soon as I started playing the guitar, but I wrote for myself. When I moved to Nashville and started co-writing, it was initially a weird experience for me because writing can be so personal. Having to open up to a stranger and pour your heart out was an intimate thing to do, but now it's just commonplace for me. I do it several times a week and I love the collaboration.
There's a song on the record, "Frigerator," which has such a classic country story. Care to share the story behind that song?
"Frigerator" is a song I started about two years ago. I had been pitching the concept for months with different writers and no one was interested. The very first time I had written with Matt Vrba I told him about the idea and he loved it. We finished the song really fast and it became a favorite for both of us. That song made us great friends and we have written together quite a bit since then.
The year has just begun, so what's in store for you for 2015?
We are going to promote the record, pitch it to labels and publishers. Also, we are just about to release the first single, "You Wanna Be My Man," which is exciting!
Now I am back in Nashville, writing my butt off! I am also looking at shows for the summer. Last year I toured quite extensively all over country, which was super awesome! I am looking to return to the same places, perform at new ones and keep busy doing my thing!
I really love performing live for people, whether it be an acoustic or full band show. I love seeing the reactions songs bring out in people, whether they are excited or touched. I love talking with fans and meeting new people after shows too. In fact, a lot of people who started out as fans have now become good friends that I keep in touch with. They help spread the word about my music and shows. It's really cool how music connects people!
Finally, besides Patty Griffin, is there any recent release you cannot stop listening to?
Girl! Taylor Swift's new record. I am really enjoying it, the songs are so catchy….how can you not like it!?
For more information visit her
official website
Follow her on
Twitter
Find her on
Facebook
Purchase
Never Ending Sky
here