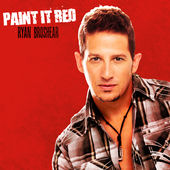 Named one of Billboard's Top 10 Country Artists to Watch in 2014, singer-songwriter Ryan Broshear recently released his new EP, Paint It Red. The Kickstarter funded record blends both traditional sounds with more contemporary ones on it's six tracks which include his new single, "Spin Me." As the tune begins to make waves at radio, Broshear kindly took the time to speak about the EP, the single and what's ahead.

Your current single "Spin Me" is a really clever take on the beginnings of a new relationship.

I'm really excited about the song, which I was lucky to write with my producer and longtime friend Daniel Agee. "Spin Me" is the first song I recorded where someone else started the idea of it. I knew I wanted a song that talked about the early stages of a relationship and young love, but I didn't have anything. So I went into the writing session saying what I would like to write about, but also being open to see what flowed. Turned out, Dan had something along those lines written, so he played what he had so far and I absolutely loved it. I jumped in with him and we were able to finish the song; when we were done we knew it would be an awesome element to the album. We're real excited about how it came out.

The song is one from your latest EP, Paint It Red, which was funded via Kickstarter.

The EP came out this past summer and the fans helped raise the money for it to come to life. I was scared when we set it up because if you didn't completely fund it, you received none of the money. But over 190 people directly funded it through Kickstarter and then dozens more helped with different things like raffles and drawings in their own communities. In the end, we met and succeeded our goal.

Initially I wanted to do a twelve song album, but we didn't know if we could bring funding for it so we scaled it back to five songs and as we were going along we found out we could make six work, which ended up being a pretty good sized EP.

Congratulations, that really speaks to the fan base.
You wrote or co-wrote five of the six tracks?

I wrote all of the songs on my first album, with co-writes from my wife Amy, and a goal of mine with this one was to bring in songs I got to co-write with Dan. We ended up with "Spin Me" and "Friday Night in A Small Town," which became almost like the title track to Paint It Red. I had that song in a writing folder, and shared it with him and he came up with the funky music and helped me finish it up. The one song I did not have a hand in writing is "Boots." Justin Michael Weaver who plays lead guitar for Wynonna wrote that song with Dan. It's a song I've been playing live for the last couple years and has become one of my crowd favorites, so we knew we had to cut it for this EP and it came out awesome as well.