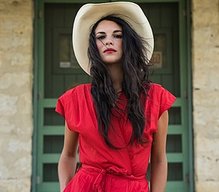 In 2015, Whitney Rose relocated to Austin from her native Canada for a residency at the famed Continental Club, but fell in love with the Lone Star State and decided to make the stay permanent. That fondness for the state coupled with her time at the historic club and the richly diverse music city all informed her new EP, South Texas Suite - which can only be described as an homage to her new home. The six-song project mixes Rose originals, covers and an instrumental in a record that's confident, charming, and enduring. In advance of her heading to Nashville to work on her next full-length, Rose graciously took the time to talk about the album, her love of the state and more.

You initially came to Texas for a two-month residency at the Continental Club, but ultimately decided to make the stay permanent.
I fell in love with Austin, the food, the people, the weather – really everything. The residency was going well and I had gained a little local following such that all of the signs pointed in the direction of staying – and I'm really glad that I did. Austin is such a supportive musical community; everyone is really rooting for one another to do well and that's a beautiful thing.

The EP includes songs you wrote as well as a couple outside cuts including Brennen Leigh's "Analog." What drew you to that song?
I discovered and fell in love with her music a few months before I moved to Austin. Then when I moved, her show was one of the first I caught. We became friends and I asked her if she would mind if I included "Analog," which is such a great simple song very much in the vein of what I do and how I live, on the record and she was all for it. It's pretty simple how it all came about.