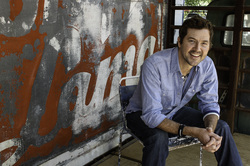 Singer songwriter Ray Johnston is a man fully aware of his stengths and weaknesses. After having to abandon his dreams of playing professional basketball due to a leukemia diagnosis, the relentless optimist shifted his focus to pursue another passion: music. His most recent release, No Bad Days, showcases his happy and hopeful spirit. As in his personal life, Ray is determined not only to survive, but to thrive and succeed in the music business. Johnston graciously took some time during his radio tour to talk about No Bad Days, his latest single, songwriting and more.


Sports, in particular basketball, have always been a huge part of your life. Was music always present as well?

Oh yes ma'am. I sang, pretty terribly, in a sixth grade play and then I sang in church. In about tenth grade, I started playing drums in a southern rock jam band. I noticed the guitar player doing some of the same motions with his hands that I was doing playing the drums, and my arrogant self thought "Hey, I think I can do that!" So that, in combination with my Dad telling me that he wouldn't allow me to take drums to college, prompted me to learn guitar in my senior year of high school. During college, I played in a cover band and after graduation, I moved to Dallas. I was working corporate, but always played music whether it was at the start of the day, in a cover band or at the end of the day after a date--I could always cover a Dave Matthews Band song and that would either ruin the night or help it! (laughing)

You are originally from Montgomery, Alabama; did your desire to play professional basketball, music or something different bring you to Texas?

I was always taught to have goals and dreams. My goal was to play college basketball and my dream was to play for the NBA, either in the states or overseas so I could see the world. My back up plan was my college degree. I graduated from Alabama and tried out for the NBDL [NBA D-League], which is the minor leagues for the NBA. I got cut and didn't have any good overseas offers, so I used my degree and worked corporate as a mortgage banker for two years. All the while I played in a semi-pro league. In 2004, the Mavericks saw me play and signed me as a free agent. I was to be their third string point guard; a position that requires someone dependable, who, when worse comes to worse, can go into the game for a few minutes without the team taking a complete tank dive. I kind of went about it the weird way by not making the team right out of college and signing later as a free agent, but much like with music, sometimes it's about being in the right place at the right time.

Ray's basketball career got sidelined when he was diagnosed with leukemia shortly after signing with the Mavericks. He sustained a pickup game shin injury that landed him in the emergency room. Within 24 hours, doctors had placed him in a coma to begin battling the leukemia they discovered attacking his body. When they woke him up seventy-one days later, he learned he'd almost bled to death, had seven fewer toes and would never play pro ball again. Since then, Ray has battled the disease five times, ultimately receiving a bone marrow transplant, and has been in remission for five years.