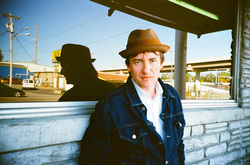 An album sure to be on many "best of" lists at year end, Paul Burch's recently released tenth, Meridian Rising, is a creative and unique musical journey, an imagined autobiography based on the life of legenadry singer-songwriter Jimmie Rodgers, whose music, (like Burch's) blended numerous genres. In advance of his show at Sid Gold's Request Room in NYC on March 3rd, Burch graciously took the time to speak in depth about the album, Rodgers, and more.

​You had thought about doing a record like this fifteen years, so why was now finally the right time?

Well, I think I got to a point, where probably everybody in every profession gets to, where I had done everything that I wanted to do when I started….but I didn't want to stop. I made a lot of different kinds of records, I had made honky-tonk records, quiet records, dark records, light records and ones that were a little more rock and I started to feel that the whole concept of making a record was getting a little bit predictable.

Nashville is a great environment. We have a great studio and there's a lot of very good, accomplished musicians here who are really willing to give you the benefit of the doubt and do the best they can for you. I don't sell a lot of records and I'm not in the studio as much as some people, but after twenty years we're all pretty good, pretty competent, at making records. I got to the point where I thought I wanted to shake things up a bit and make a record that wasn't going to fit into the same kind of frame that most records do.

It's a record that is definitely done in an incredibly creative and unique manner. Many times when people pay tribute to another artist they simply cover their songs; you approached it from a totally different direction.

When the idea came into my head, I thought 'Well, that's an unusual idea', but it also seemed very meaty, something with a lot of heft to it, more so than the typical record. I think the writer in me is always looking for a challenge, for a different way of writing songs. I still love Rock and Roll and will always want to write Rock and Roll songs, but that's a real narrow framework.

​The idea for this album came into my head a long time ago when I became enchanted with Jimmie's recordings, one in particular that he did with a blues guitar player named Clifford Gibson, who is not very well known but is a very accomplished player. They just seemed to hit it off in a way that was very joyful and it got me thinking about Jimmie. I had read his biography and loved his music, but I enjoyed thinking about him and his story. It was a great time period not only for music but for art and architecture as well; it was like the beginning of the modern world….and Jimmie was a modern guy.

One of the things that made it fun for me was that I was okay if I couldn't get it done. Originally, we recorded two songs and they came out really well and we were all very happy with them, but even then I thought that if this ends up being a single, or something I do over a long period of time that's okay because the idea was strong enough…and everyone's allowed a good idea. I knew that if I couldn't finish it it wasn't because it wasn't a good idea, it was because the inspiration hadn't hit me. But as you see, I kept going (laughing). I'm actually pleased that it's done and I don't have to keep doing it (laughing).