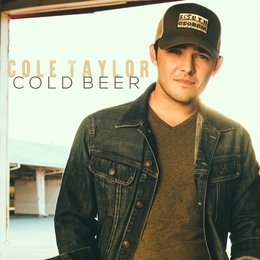 Hailing from Georgia, country newcomer Cole Taylor has quickly become an in-demand country songwriter for a multitude of country artists like Luke Bryan and Cole Swindell. Having had a hand in co-writing #1 hits for FGL ["Sippin' On Fire"] and Luke Bryan ["Home Alone Tonight,"] Taylor is now ready to step into the spotlight as an artist himself. His latest single, "Cold Beer," is currently winning over listeners on Sirius XM's On The Horizon program with its infectious groove and relatable story. Recently, Taylor took the time to talk about his roots, the single, and more.
You began writing when you were around fourteen years old, so was music something that you always wanted to pursue?
Yes, it was. I started singing in church when I was twelve and began playing guitar in high school. Once I played guitar well enough I put melody with lyrics and in college started playing in bars and building a fan base. I knew that I loved songwriting and performing and decided to move to Nashville - and here I am today.
In 2013, you moved to Nashville where, in under a year, you acquired a publishing deal and became an in-demand songwriter.
When I moved to Nashville, I had already known Cole Swindell and Greg Hill, who is now my manager. Cole gave me a lot of advice about where to go and who to connect with and Greg really encouraged me to write. So, I took the time and about three months later, I went back to Greg with songs I had written. He and I met with a lot of people and I was ultimately signed by Universal. Early on, I found my champion at UMPG in Ron Stuve who got me into rooms where I was able to write with good people and songs like "Sippin On Fire" and "Home Alone Tonight" were born.
It's all been such a blessing. I know so many people come to town and nothing happens for them for ten or fifteen years, so I count my lucky stars every day I get to do this for a living and have had some success early on.
The songs you mentioned both went to #1 and you have songs on hold by other well-known artists. What do you think draws artists like FGL and Luke Bryan to your songs?
I think it starts with an undeniable melody. Growing up, I fell in love with the music of Garth Brooks, Randy Travis, and Alan Jackson. They had songs with nice melodies and simple lyrics that were easy to digest – and that's what I do with my songs. I try to write songs with simple lyrics that people will hear and relate to.
But, in addition to those country artists, I also listened to Master P and Usher and what I really enjoy doing is putting a R&B melody in a country song. It's funny because when people ask me to describe my music I tell them it's the sound of a burnt cd because when I was growing up you could have anything you wanted on one cd - and that's what my music is, it's a bunch of different genres, not just one.