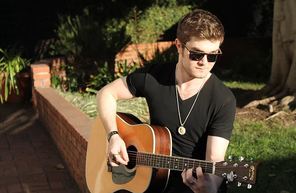 Jacob Davich is known to many for his roles in various Hollywood movies such as The Aviator, where he played a young Leonardo DiCaprio, and The Adventures of Sharkboy and Lava Girl, but all the while he was acting, Jacob felt the pull of music. He immersed himself in piano and guitar and eventually decided to follow his passion and pursue music full-time. Recently, he released his debut song, "My Father's Gun" and kindly called to talk about his roots, the song, and more.

You've been acting since you were a boy, but being that your Father was a composer, was music something that was always there for you or something that you recently became interested in?
Growing up around a working composer was really cool. My dad had a studio behind our house, so it was normal for me to walk to the studio, hang out, and watch the musicians do their thing. My Dad had me take piano lessons as a kid and as I got older, around 8th or 9th grade, I started playing the guitar. Before I picked up the guitar though, I randomly got my first commercial [for iTunes]. I was literally on the street and two girls were interviewing for a commercial; I rapped an Eminem song and I guess a little boy rapping Eminem was cute because I got the commercial. After that, I was spotted by Martin Scorsese or Leo DiCaprio and was cast as a young Leo in The Aviator. I continued acting, but was always playing the guitar and listening to various types of music like Rap and Classic Rock. In fact, the first two songs on my iPod were "Welcome to Atlanta" by Ludacris and Don McLean's "American Pie" - that's where my head was (laughing). Later, I got into James Taylor, whose finger picking style and chord formations I really liked. I had great guitar teaches, but if I wanted to learn something I was the meticulous nerd who looked up videos on YouTube and learned a song note for note until I could play it properly. Doing it that way increased my knowledge base and gave me a wide breath of songs I could play. I ate it [playing guitar] up, stayed with it, and over time music became more important than acting and I felt like I had no choice but to pursue it.